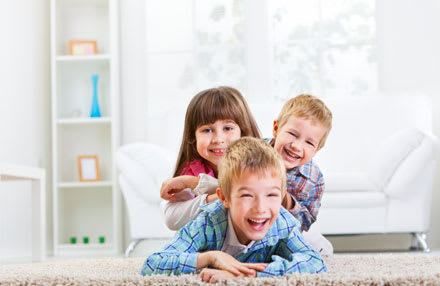 Terms and Conditions
All information on this website is provided as a general guide/outline and based on best practice in typical circumstances. Use of Flat Rate Carpet's services after agreeing to the terms of the no-obligation free estimate shall be deemed as acceptance of the following terms and conditions:
No-Obligation Free Estimate
Flat Rate Carpet will give you a no-obligation, free estimate before carrying out any job (unless previously agreed). As a result, you will know the precise cost of the job before we begin work and will not have to worry about hidden charges.
Return and Redo
Flat Rate Carpet operates a 'return-and-re-do' policy. If you are not entirely happy with the level of service you receive, you should let us know within seven days. We will then make an appointment with you to examine the situation and, if we deem it necessary, we will carry out the work again.
Carpet Cleaning
Carpet cleaning will be carried out according to the following conditions:
1. We will make the best possible effort to identify and remove all spots, stains and spills from your carpet. However, we cannot guarantee their entire removal and accept no liability for any permanent deep-seated stains that, in our opinion, cannot be removed in their entirety.
2. We will accept no liability for color runs, due to non-fast color dyes that already exist in the carpet or rug.
3. We will accept no liability for re-soiling of an area, once its cleaning is complete.
4. We will not be liable for any product purchased from us that may subsequently cause your carpet or rug damage.
5. The cleaning of your carpet does not extend to the cleaning of its padding. This is an additional service and will be charged for separately.
6. We will not be liable for any buckling or un-seaming (when a carpet is removed from its place) or any other damage to the carpet, as a result of it being re-stretched.
Rug Cleaning
Flat Rate Carpet guarantees that your rug will be returned to you within 7-10 business days of it being picked up from your home. If a second cleaning of the rug is necessary, this service will be carried out without charge but will take up to 7 additional business days.
Upholstery Cleaning
Upholstery cleaning will be carried out only to the surface of the material and not to the filling. This is an additional service and will be charged for separately.
Removal of Objects
Flat Rate Carpet will not be responsible for the removal of good, breakables and furniture relating to their carpet cleaning services. Flat Rate Carpet will not be responsible for any damage caused to such goods, breakables and furniture unless the damage is a direct result of the negligence of our company or our employees. It should also be agreed that larger items (such as televisions, book cases, wall cabinets, filing cabinets, etc) will remain in place, and no cleaning will take place underneath such items.
Carpet Protection
Flat Rate Carpet will apply any protection agents requested by the client in accordance with the manufacturer's guidelines. Flat Rate Carpet cannot guarantee 100% protection of fibers against spills. Furthermore, if the client has any complaints relating directly to the product, these must be taken up directly with the manufacturer.
Redemption of Coupons
All coupons entitling the customer to a discount on particular services must be redeemed at the time work is carried out. Flat Rate Carpet will not accept such coupons at a later date. Only one coupon per customer can be redeemed, unless specifically stated otherwise.
Privacy Policy
Flat Rate Carpet may, on occasion, ask certain information of you, in order to provide you with the best possible service. However, Flat Rate Carpet will never sell, rent or lease your personal information to others, unless we are given your permission or are required to do so by law.
Advance Notice
It is not the responsibility of Flat Rate Carpet to ask the customer for specific information relating to the circumstances of the carpet or rug. It is the customer's responsibility to provide that information in advance. Flat Rate Carpet will not be liable for the results of any work carried out if relevant information was not provided beforehand.
Cancellation Policy
Deposits made for cancelled cleaning jobs are non-refundable.
Terms of Payment
All payment should be received by Flat Rate Carpet on completion of the work. Cash, checks, bank transfers and credit cards are all accepted. With regard to commercial clients, a period of 28 days grace is given for payment to be provided. Any charges incurred by Flat Rate Carpet as a result of failure to honor a check will be liable to the customer.
Complaints
In the event that you wish to complain about the services provided by Flat Rate Carpet, this must be done either in writing or by telephone within seven days of completion of the work. No complaints will be acceptable after this time period.
E&OE
Flat Rate Carpet is not responsible for typographical errors, publishing or advertising mistakes and missing components of this disclaimer. This disclaimer cannot be orally contradicted.
Privacy Policy
This Privacy Policy governs the manner in which flat Rate Carpet collects, uses, maintains and discloses information collected from users (each, a "User") of the www.flatratecarpet.com website ("Site"). This privacy policy applies to the Site and all products and services offered by flat Rate Carpet.
Personal identification information
We may collect personal identification information from Users in a variety of ways, including, but not limited to, when Users visit our site, place an order, fill out a form, and in connection with other activities, services, features or resources we make available on our Site. Users may be asked for, as appropriate, name, email address, mailing address, phone number. Users may, however, visit our Site anonymously. We will collect personal identification information from Users only if they voluntarily submit such information to us. Users can always refuse to supply personally identification information, except that it may prevent them from engaging in certain Site related activities.
Non-personal identification information
We may collect non-personal identification information about Users whenever they interact with our Site. Non-personal identification information may include the browser name, the type of computer and technical information about Users means of connection to our Site, such as the operating system and the Internet service providers utilized and other similar information.
Web browser cookies
Our Site may use "cookies" to enhance User experience. User's web browser places cookies on their hard drive for record-keeping purposes and sometimes to track information about them. User may choose to set their web browser to refuse cookies, or to alert you when cookies are being sent. If they do so, note that some parts of the Site may not function properly.
How we use collected information
flat Rate Carpet collects and uses Users personal information for the following purposes:
-To improve our Site
We continually strive to improve our website offerings based on the information and feedback we receive from you.
-To improve customer service
Your information helps us to more effectively respond to your customer service requests and support needs.
- To process transactions
We may use the information Users provide about themselves when placing an order only to provide service to that order. We do not share this information with outside parties except to the extent necessary to provide the service.
- To send periodic emails
The email address Users provide for order processing, will only be used to send them information and updates pertaining to their order. It may also be used to respond to their inquiries, and/or other requests or questions. If User decides to opt-in to our mailing list, they will receive emails that may include company news, updates, related product or service information, etc. If at any time the User would like to unsubscribe from receiving future emails, we include detailed unsubscribe instructions at the bottom of each email or User may contact us via our Site.
How we protect your information
We adopt appropriate data collection, storage and processing practices and security measures to protect against unauthorized access, alteration, disclosure or destruction of your personal information, username, password, transaction information and data stored on our Site.
Sensitive and private data exchange between the Site and its Users happens over a SSL secured communication channel and is encrypted and protected with digital signatures.
Sharing your personal information
We do not sell, trade, or rent Users personal identification information to others. We may share generic aggregated demographic information not linked to any personal identification information regarding visitors and users with our business partners, trusted affiliates and advertisers for the purposes outlined above.
Third party websites
Users may find advertising or other content on our Site that link to the sites and services of our partners, suppliers, advertisers, sponsors, licensors and other third parties. We do not control the content or links that appear on these sites and are not responsible for the practices employed by websites linked to or from our Site. In addition, these sites or services, including their content and links, may be constantly changing. These sites and services may have their own privacy policies and customer service policies. Browsing and interaction on any other website, including websites which have a link to our Site, is subject to that website's own terms and policies.
Changes to this privacy policy
flat Rate Carpet has the discretion to update this privacy policy at any time. When we do, we will revise the updated date at the bottom of this page. We encourage Users to frequently check this page for any changes to stay informed about how we are helping to protect the personal information we collect. You acknowledge and agree that it is your responsibility to review this privacy policy periodically and become aware of modifications.
Your acceptance of these terms
By using this Site, you signify your acceptance of this policy. If you do not agree to this policy, please do not use our Site. Your continued use of the Site following the posting of changes to this policy will be deemed your acceptance of those changes.
Trademark and copyrights
We have the rights for the trademark "Flat Rate Carpet" and our unique logo. Moreover, we have the rights for all of the text and the pictures in our website.
Records of our trademark:
www.trademarkia.com/company-flat-rate-carpet-inc-450574-page-1-2
Contacting us
If you have any questions about this Privacy Policy, the practices of this site, or your dealings with this site, please contact us at:
Flat Rate Carpet
www.flatratecarpet.com
777 Meeker Ave
Brooklyn, NY 11222
Phone: (718) 387-8100
"The carpet in our living room had a big rip in it. FlatRate Carpet repaired it seamlessly -it looks...
Mrs. Jennifer Patterson, Queens
"I liked that Eric, the technician, cleaned a test spot in my carpet first. It made me feel comfortable with...
Becca McGail, NYC
"I really liked working with Ally. She worked with my crazy schedule and got a technician to my house quickly....
Cassie Michaels, Arverne, NY
"Alex from Flat Rate did a great job cleaning my couches. He gave a great explanation of the quote and price...
Patti McConor, Aberdeen Township, NJ
"..I can't believe how good my house looks after professional carpet cleaning. Thank you, Flat Rate Carpet."
Jake House , Salem, NY
"I really liked the free cleaning test treatment and think they offer very fair pricing. They did an excellent...
Jayden Becker, Staten Island, NY
"I greatly appreciate working with your team to update our home. The service, from coordinating the decor to...
Mary Stanton, Middlesex, NJ
"Hey Ron, I don't know how your guys did it, but the dog smell disappeared, and the rug is like new with no...
Richard, Hempstead, NY
"My living room furniture is looking fresh again - it looks like it did when I bought it!Thanks guys for...
Karen McCarthy, New York
"I got a great clean at a very reasonable price from the team at Flat Rate. I would use you again and again." 
Wendy Davis, Boerum Hill, NY
Protect your health and life style by choosing the organic way