Flat Rate Carpet's Rug Cleaning Process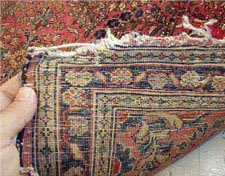 Step 1 - Inspection
Our process is careful and methodic. During the initial inspection of the rug we do the following:
Send a well-trained, experienced technician to meet with the client
Take note of the exact existing condition of the rug
Prepare the rug for transportation our warehouse, where we perform the cleaning
Step 2 - Dusting
We take special care of your rug, adding a preliminary dusting step that other companies will skip.
Your rug will be dusted to remove embedded dirt trapped deep in the fibres and foundations of the rug.
Dusting your rug before cleaning will ensure your rug will be perfectly clean at the end of our thorough cleaning process.
Step 3 - Cleaning
We will clean your rug with one of two specialist cleaning methods.
We use either gentle water immersion and eco-friendly cleaning products, or dry cleaning methods using minimal water.
The cleaning method we use will be tailored exactly to the type of rug, it's age and it's condition. This will ensure the most efficient cleaning process available.
Step 4 - Drying
All rugs are then dried in a unique climate controlled drying room.
This unique drying process reduces mold or mildew in the rug's foundations.
Your rug will last longer and it's foundations will remain stronger due to our temperature and humidity controlled drying process.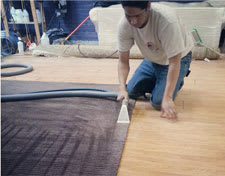 Step 5 - Touch Up
We straighten the fringes on your rug, align the pile and remove the protection patch.
Your rug will be deodorized to leave it smelling fresh and clean.
These final touches are expertly carried out, leaving your rug looking and smelling like new.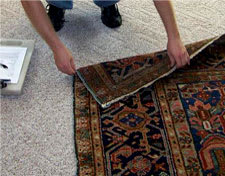 Step 6 - Delivery
Your rug will undergo quality control tests to check that it has been cleaned to the highest standard.
It will then be packed and padded with foam to protect it on its journey back to your home.
Your rug will be returned to you in excellent, clean condition, with a fresh smell and a soft feel.
Our methodic process is designed to achieve a specific goal: making sure each rug
gets the care it needs. Years of experience have taught us of the uniqueness of each rug, and that the right care can provide for amazing results.

Our efficient, environmentally sound – we only use natural bio degradable products – and thorough process allows us to give our customers 100% guarantee on all cleaning and repair work.
* Roll over each step above for description
Call us now at (866) 466-4576 for all your area rug needs in NY, NYC, NJ & CT Or use our
Online Form
.
Protect Your Precious Pieces
Leave your area rug cleaning to the experts at Flat Rate Carpet where we care for them all: Oriental Rugs, Wool, Silk, Synthetic, Traditional, Persian, Indian, Turkish, Tibetan, Flokati, Handmade, Machine-made, Natural dye, chenille, cotton, braided, shag, natural fiber, silk blend, hand-knotted and more.
Flat Rate Carpet prides itself on a long and respected tradition of excellence. Our knowledgeable experts use gentle, proven methods of area rug cleaning.
We Dig Deep Into the Foundation
Our cleaning is not just on the outside of the rug we dig deep and remove all hidden dirt from the rug foundation and other areas, so it could maintain its structure and strength for many years to come.
All Styles, All Origins
Whether you have a fine hand-woven, antique Persian, or a funky contemporary shag, you want your work of art cleaned or repaired thoughtfully and carefully.
Our experts know that natural fibers such as wool and cotton require different care than nylon or polyblends. You can trust our experts to treat your area rug with the attention and detail it deserves.
Eventually, even the best-kept rugs begin to show signs of everyday wear and tear. However, with our superior care and attention to cleaning and preservation we ensure that your rug looks it's best for as long as possible.
Rug Cleaning Experts - Right Rug, Right Method
Our experts determine the appropriate cleaning process for your rug based on its individual characteristics including its origin, type, and material (Wool, Silk, and more). Once we have finished the cleaning process don't forget to ask about our Scotchgard Rug Protection
You can trust us with all of your rug cleaning needs in New York, NYC, Long Island, Westchester, New Jersey & Connecticut.
Oriental Rug Cleaning - Rinsing and Squeezing
Rug cleaning - how to get it right
Rugs are a great addition to any home – they add color, warmth, and style and can make even the most humble surroundings appear more cozy and welcoming. While rugs have many advantages, one thing about them that most people consider as a disadvantage is the work it takes keeping them clean, dust-free and looking as good as new. Rugs have a tendency to attract dust, mold, and debris, and unlike smooth surfaces like floors or kitchen counters, any spills or stains are quickly absorbed, which often means that wiping them isn't sufficient.
Of course, this does not mean you shouldn't buy that rug that you've dreaming of for ages! In fact, keeping rugs clean is actually not difficult at all, if you use the right methods and periodically get them professionally cleaning by a rug cleaning service.
So here are some useful rug cleaning tips that are so simple anyone can follow them. You won't believe how easy rug maintenance can be!
1. Vacuum!
Rugs tend to accumulate dust, particles, and debris. Not only does that make them look faded and discolored over time, but it can also scratch and tear their fibers. Plus, a dusty rug (which often also turns into a moldy rug) can become a health hazard, and cause various breathing and skin conditions. Doesn't sound very good, does it? But this problem has a very easy solution: vacuuming! Vacuuming your rug regularly (once a week – but more than that if you have pets) will prevent dust buildup, keep the rug nice and shiny, and make it easier to remove stains and spots.
2. Blot those spills
When something spills on the carpet – whether it's wine, soup or dog pee – the immediate action to take is to blot the spill with a paper towel, white cloth or a towel. Be careful not to rub – just blot! Blotting prevents the stain from spreading and makes it much easier and quicker to clean afterward.
3. Make good use of rug shampoo
Rug shampoo, a cleaning product designed especially for rugs, can work magic on your rug. Before you use it, don't forget to check the tag on your rug which indicates what cleaning products you can use on it, and make sure the shampoo fits those specifications. Work according to the instructions on the shampoo. Usually, you'll have to mix it with water and dilute it before you use it. To clean the stain, pour some drops of the solution on it (don't flood the rug), then rub it in vigorously with an appropriate brush. After the rug has dried, vacuum it.
4. For food or pet-related stains, use an organic product
Food stains and pet accidents hardly ever require a heavy-duty detergent. An eco-friendly or organic rug cleaning product is quite enough and also keeps your carpet healthy and clean. Spray the stain with the product, and then wipe it with a towel cloth.
5. For tough stains or delicate rugs – contact a rug cleaning service
The tips above should help you keep your rug clean and shiny, however, in cases stains can't be removed by the usual methods, or the carpet is very old and/or fragile, it's best to call up a rug cleaning service. Rug cleaning NYC services and rug cleaning Brooklyn services can be easily found online. Don't forget to check for Flat Rate Carpet ratings and reviews, and get a quote from several services before you make your final decision.
"The carpet in our living room had a big rip in it. FlatRate Carpet repaired it seamlessly -it looks...
Mrs. Jennifer Patterson, Queens
"I liked that Eric, the technician, cleaned a test spot in my carpet first. It made me feel comfortable with...
Becca McGail, NYC
"I really liked working with Ally. She worked with my crazy schedule and got a technician to my house quickly....
Cassie Michaels, Arverne, NY
"Alex from Flat Rate did a great job cleaning my couches. He gave a great explanation of the quote and price...
Patti McConor, Aberdeen Township, NJ
"..I can't believe how good my house looks after professional carpet cleaning. Thank you, Flat Rate Carpet."
Jake House , Salem, NY
"I really liked the free cleaning test treatment and think they offer very fair pricing. They did an excellent...
Jayden Becker, Staten Island, NY
"I greatly appreciate working with your team to update our home. The service, from coordinating the decor to...
Mary Stanton, Middlesex, NJ
"Hey Ron, I don't know how your guys did it, but the dog smell disappeared, and the rug is like new with no...
Richard, Hempstead, NY
"My living room furniture is looking fresh again - it looks like it did when I bought it!Thanks guys for...
Karen McCarthy, New York
"I got a great clean at a very reasonable price from the team at Flat Rate. I would use you again and again." 
Wendy Davis, Boerum Hill, NY
Protect your health and life style by choosing the organic way
Wine Stain Removal From an Area Rug
In Upper West Side, Manhattan NY. Done by Thomas
Emergency service for a customer that spilled wine on his fine area rug. We came to the rescue, and saved the day for his evening party.