Not Yet Lost... Flat Rate Care Can Help
Rug Repair With Special Care
Whether your rug is a precious family heirloom or a beautiful handmade work of art it is special to you - at Flat Rate Carpet your rug is special to us too.
Love & Expertise
Maintaining, repairing and restoring fine rugs is our job but it's also what we love to do. This means you can rest easy knowing that your rug is in good hands.
Over the years the state of your fine rug can deteriorate, regardless of the care you put into it. This means rug repair is needed.
Call us now at (866) 466-4576 for all your rug repair needs in NY, NYC, NJ & CT Or use our
Online Form
.
A Comprehensive Work Process that Ensures Great Results
Each and every rug is different and requires a specific cleaning process. At Flat Rate, we begin with a pre-inspection.
Our experts examine rugs individually, paying close attention to the smallest signs of fading, stains, discoloration, odors, wear, pre-existing damage and color instability.
We will then decide on the appropriate cleaning method ensuring that when your rug is returned to you it will be in the the best possible condition.
Beautiful... Once Again
Color fading, water damage and tears are just a few of the ways that fine rugs become damaged. Flat Rate Carpet technicians are the best in the business and will work hard to get your rug looking like new.
Flat Rate Carpet specialties include:
After the initial inspection, our technicians will remove any dust or particles embedded deep within the rug, using: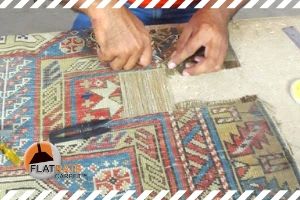 Rug Reweaving
Is your rug looking frayed?
Whether you've spent a lot of money on acquiring your beautiful rug, or it is a family heirloom passed down through the generations, it can be very sad to see it falling to pieces. With frayed edges or patches where the thread has come loose, your rug may be in a very sorry condition indeed.
We'll help you tie up all your loose ends!
If you live in the New York, New Jersey, or Connecticut areas then Flat Rate Carpet can help you bring your damaged rug back to life. We are professional rug weavers, knowing exactly how to color match the threads and reweave your rug with hand-dyed yarn.
Our team of professionals works to match the knotting, style, and texture of your rug so that their reweaving work will seamlessly match your original rug.
Complete rug repair
Rug reweaving is just one of the many rug repair and restoration services we offer, as well as fixing or replacing rug backing, straightening fringes, color restoration, and full cleaning and dusting services.
Rug Fringing
Is your rug looking tattered and torn?
When rugs begin to look tattered and torn, one of the primary areas to suffer damage is the rug fringes. Since there are on the outside of the rug they have less protection from everyday wear. Rug fringes can become unknotted, dirty, and dusty or broken, ruining the overall appearance of your rug.
Tidy rug fringing
Flat Rate Carpet, specializes in carpet and rug repair in the NY area can repair fringing, as well as offering you other services to restore your rug to its former condition.
Since each rug is unique we offer an in-home evaluation to check for the exact damage to your rug. Then we perform the following repair services in our expert rug restoration facilities:
Reweaving
Re-knotting
Re-sewing
Cleaning
Trimming
Straightening
Complete Fringe Replacement
We offer all our rug restoration services in the NY, NJ, and Connecticut areas. Call us today for a free in-home estimate and return your rug to looking and feeling great.
Rug Color Restoration
Is your rug faded?
Rugs can become faded and lose their color over time from direct exposure to sunlight, water damage, and dust. Your once beautiful rug will look worn and dusty, and its original color will lose its luster.
Beautiful color, naturally
Flat Rate Carpet can restore your rug's true colors, and we do it all without harsh chemicals and pigments. We pride ourselves on using organic vegetable dyes and natural coloring, and we'll match the color perfectly to your rug, restoring it to its original, beautiful color and condition.
Many rugs look faded due to a buildup of dust in the rug's fibers. Our six-step rug cleaning process will remove dirt and grime from deep down in your rug's fibers and foundations, allowing your rug's natural beauty to shine through.
By dusting and cleaning your rug prior to the color restoration process we ensure that your rug's colors last longer, and stay brighter.
Rug Blocking
Is your rug in bad shape?
When your rug is placed in a high traffic area it can become wrinkled and misshapen. Flat Rate Carpet provides rug blocking services in the NY area. Rug resizing restretches your rug to get rid of wrinkles and reshapes your rug to return it to its original shape and size
Resizing and reshaping
Blocking is done on a specialist rug blocking machine. The rug is resized upside down, so as not to damage the fibers. Organic products are applied to moisten and soften the rug fibers.
The machines smooth out the material and the fibers of the rug equalize the tension and reshape the fabric, resulting in a perfectly smooth rug.
The rug is then dried in our drying facility with controlled humidity and temperature, to prevent mold growth and keep your rug in optimum condition.
30-day satisfaction guarantee
We know we provide expert care for your rug or carpet, which is why we are happy to provide you with a 30-day guarantee for all our work. We also offer a range of other rugs and carpet repair services, installation, and cleaning work.
Rug Backing
Why add rug backing to your rug?
Many rugs come without proper backing, or with a backing that isn't designed to last through everyday wear and tear. Good backing with protecting your rug both from daily use and also from mold, dust and water.
Double backing to protect your rug
When we add carpet backing to your rug we do it in a two layered system. The first layer, the primary backing is a coarse-textured material, designed to support and strengthen the foundation of your rug. The second layer acts as a barrier against dirt, mold and insulates your rug.
Rug backing repair services
Flat Rate Carpet both installs backing on new rugs and also repairs and replaces backing on older rugs, including antique and Oriental rugs. We understand that each type of rug needs its own expert care, so we provide hand backing and machine backing installation and repair services.
Rug Binding
Is your rug falling apart?
Rugs are a unique design feature in many homes, but the nature of their fibers and designs means that they are actually very delicate. Antique rugs, and family heirloom rugs may be in poor condition due to age and lack of care. There's nothing more disappointing than investing in a beautiful, unique rug, and then have it fall apart.
Bound up with love
Flat Rate Carpet specializes in repairing and restoring all types of rug in the New York area, and we put individual care into fixing each rug according to its own specifications. We provide binding services to repair rugs that are fraying at the edges, and rug binding for new rugs to keep them in optimum condition for longer.
Whether you need a new binding on an old rug or a new one, we can help.
Satisfaction- guaranteed
We offer a 30 day 100% satisfaction guaranteed warranty, so you can be sure that your rug is in good hands. Carpet binding is just one of the rug repair and restoration services that we offer.
More Effective
Combinations of special tools and compressed air. This process known as "dusting" is far more effective in eradicating dirt than vacuuming or beating. After dusting we will pre-treat it for any spills, spots or stains it has.
We will then begin the pre-cleaning process dealing with the heavy-soiled areas. We will extract any ground-in dirt not removed during the dusting process. Afterwards, we will rinse the rug to remove both the embedded dirt and any cleaning residue that remains.
Feel Your Rug's Natural Texture
We will then groom your rug to restore its natural texture. It will be hung in a special climate-controlled room which reduces drying time to less than 24 hours.
Finally we will check your rug meticulously making sure that all remaining dirt is removed. If necessary we will repeat any of the above steps to ensure that your rug looks its very best. We Service all of New York, NYC & New Jersey.
Rug Restoration
Restore Your Rug's Colors, Feel & Look
When you buy a beautiful rug it is both an important design feature in your home and also an investment. Rugs can be damaged by pets, small children, water, sunlight or general wear and tear. It can be devastating to see an antique or precious rug damaged.
Don't Throw Away Your Special Rug
Flat Rate Carpet guarantees you careful and expert care when restoring your rug. We offer the following repair and restoration services in the New York, New Jersey and Connecticut area, for all types and styles of rug.
Call us now at (866) 466-4576 for all your rug repair needs in NY, NYC, NJ & CT Or use our
Online Form
.
Rug Restoration - Tailored to Your Rug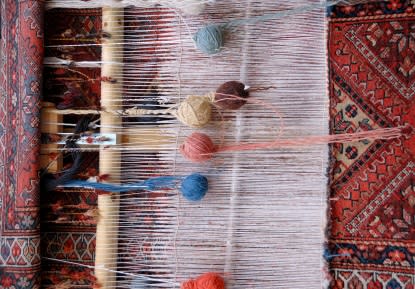 Every job is tailored to your type of rug and the damage it has endured. We fix holes through expert reweaving techniques or patching to cover holes completely, straighten, repair and replace any broken fringes so your rug looks as good as new.
Any loose binding is re-stitched by hand or machine and any broken backing is replaced with a long lasting quality backing to keep your rug in good condition, for longer.
Return to Beautiful Color
Using organic rug dyers and vegetable dyes we will restore your rug to its original color and glory. Flat Rate Carpet specializes in natural rug dyers and we will guarantee a match to your original rug to produce excellent and professional results.
Our specialist restoration and repair services will leave your rug looking great with its original soft texture and a fresh smell.
"The carpet in our living room had a big rip in it. FlatRate Carpet repaired it seamlessly -it looks...
Mrs. Jennifer Patterson, Queens
"I liked that Eric, the technician, cleaned a test spot in my carpet first. It made me feel comfortable with...
Becca McGail, NYC
"I really liked working with Ally. She worked with my crazy schedule and got a technician to my house quickly....
Cassie Michaels, Arverne, NY
"Alex from Flat Rate did a great job cleaning my couches. He gave a great explanation of the quote and price...
Patti McConor, Aberdeen Township, NJ
"..I can't believe how good my house looks after professional carpet cleaning. Thank you, Flat Rate Carpet."
Jake House , Salem, NY
"I really liked the free cleaning test treatment and think they offer very fair pricing. They did an excellent...
Jayden Becker, Staten Island, NY
"I greatly appreciate working with your team to update our home. The service, from coordinating the decor to...
Mary Stanton, Middlesex, NJ
"Hey Ron, I don't know how your guys did it, but the dog smell disappeared, and the rug is like new with no...
Richard, Hempstead, NY
"My living room furniture is looking fresh again - it looks like it did when I bought it!Thanks guys for...
Karen McCarthy, New York
"I got a great clean at a very reasonable price from the team at Flat Rate. I would use you again and again." 
Wendy Davis, Boerum Hill, NY
Protect your health and life style by choosing the organic way
Oriental Area Rug Repair Reweaving and Restoration
In Upper East Side, Manhattan NY. Done By: Thomas
This beautiful handmade area rug was torn, faded, ripped and almost thrown away. We managed to reweave and completely restore it, making it a wonderful piece for the room it resided in once again.