New Shine for Beautiful Furniture
When properly cared for, your furniture can last for far longer than you think, especially with regular professional upholstery cleaning readily available in New York, New Jersey and Connecticut.
Flat Rate Carpet offers a variety of sofa cleaning, including sectional couches, armchair cleaning and ottoman cleaning. We can even thoroughly clean your slipcovers.
Combat Wear and Tear
Look no further than Flat Rate Carpet's unique Upholstery Cleaning and Scotchguard Carpet Protection services for help in maintaining your upholstery. You can rest assured that, by the time we finish, your furniture will look fresh and clean for years to come.
We know what it takes to keep your furniture looking good, whether it's a sofa or an armchair. Our services also provide the perfect clean for all types of slipcovers and love seats.
We understand that everyday wear and tear can take its toll on your pieces, making them look prematurely shabby and dirty.
Call us now at (866) 466-4576 for all your upholstery cleaning needs in NY, NYC, NJ & CT Or use our
Online Form
.
Clean Furniture, New Living Room
At Flat Rate Carpet, we developed a deep furniture cleaning method that cleans and refreshes your upholstery. It transforms not only your furniture but the appearance of your entire home, also.
We employ highly-trained, honest technicians who work throughout NYC, NJ and CT and deliver quality results every time. They gently handle all of your furniture as they completely clear it of stains, dirt, and dust.
Rest assured in your choice since all of our work is 100% guaranteed. Be sure to ask about our special prices when you choose more than two of our exclusive services.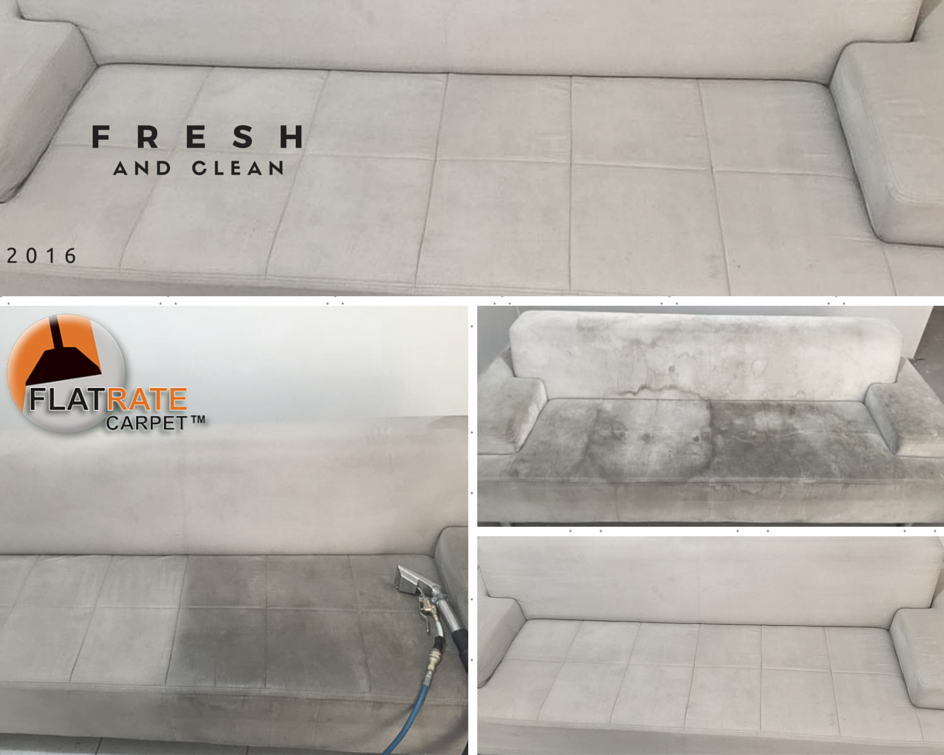 Specialized Treatment for All Fabrics
For households with pets and small children, we recommend a combination of our unique furniture cleaning method and Scotchgard Carpet Protection treatments. This powerful combination prevents stains from permanent saturation in your furniture.
Our technicians evaluate your upholstery, and its particular fabric, before advising you of the best treatment to clean the piece completely.
Best Methods Gives Best Results
We specialize in all types of upholstery fabric. We carefully and thoughtfully use only the most appropriate cleaning method for your piece of furniture. Our methods ensure the safe and complete removal of even the most stubborn stains.
For a list of our supported upholstery brands, click here.
Please see our list of many upholstery cleaning services below:
Steam Cleaning
Deep Cleaning Method
Spot and Stain Removal
Allergy Control
Deodorizing
Pet Stain & Odor Removal
Furniture and Upholstery Cleaning
Sanitizing and Disinfecting
Scotchguard
Deep Down Cleaning
Water Damage Control
Mildew Treatment


The Best Tips for Upholstery Cleaning
Sometimes, cleaning upholstery can be a real drag. You want the upholstered furniture in your apartment to look clean and new and not faded and stained; but with dust easily settling on furniture, the dirt your dog brings from his walks outside, children accidentally (or not accidentally) coloring on furniture with crayons or markers, or the occasional spilled drink or food stain – you begin to wonder how you can keep up.
But before you throw in the towel, you should keep reading. Yes, keeping upholstery clean can be quite a challenge, and in tough cases your only solution will be to have professional upholstery cleaning services do the job; but there are plenty of things you can do yourself, and they're simple too. Here are some fabulous upholstery cleaning tips you can you can use for the next time you find stains or spots on your furniture!
1. Spilled something? Blot it!
If you happen to spill anything on an upholstered piece of furniture, the first thing you must do is blot it. Use a white towel or cloth and just soak up as much of the spill as possible, so that it doesn't spread. This will make cleaning it up so much easier.
2. For stains and dirt, use baby wipes
If your pet left its muddy paw prints all over the sofa, or your child had a messy meal which stained the upholstered kitchen chair, grab some baby wipes and scrub the dirty spot. You'll be amazed at what they can do! In some cases, they may not remove the stain or dirt completely, but they'll probably remove a large part of it, and the rest would be easy enough to clean.
3. Before attempting to remove old stains – vacuum
If the spills and stains on your furniture are already some days or weeks old and you can't use the quick fixes mentioned above, it is very important to vacuum it thoroughly before you start cleaning it with stain remover, etc. Vacuuming will clear all the dust and tiny particles from the furniture, making it look less dingy but also making it easier for you to complete the next steps of cleaning.
4. Look at the tag on the furniture before you clean it
If you're planning to use more heavy-duty materials or cleaning methods on your furniture, you must first check what the tag on the furniture says about suitable cleaning methods. Furniture can be made of various types of fabrics, dyed with different types of dyes, and those fabrics and dyes can react differently to the different modes of cleaning. In some cases, they may even be damaged if cleaned in an unsuitable manner. On the tag you'll see a code which indicates the appropriate cleaning method for this specific piece of furniture: ""S"" means you should use a water-free product, ""W"" means you should use a water-based product, ""X"" means it should be cleaned by professionals, and ""WS"" means both water-based and water-free products are suitable for cleaning it.
5. When in doubt – contact upholstery cleaning services
If your furniture is very old or even antique, it doesn't have a tag which indicates how to clean it, or the stains on it are very difficult to remove – your best bet will be to contact a professional service for upholstery cleaning. This is very easily done: if, for example, you're looking for upholstery cleaning New York services, just look up on the web ""upholstery cleaning NYC"" or ""upholstery cleaning Brooklyn"" and you should get plenty of useful results. Make sure to check their ratings and reviews, or ask for the opinion of an experienced friend or family member on the services you've found.
Good luck!
"The carpet in our living room had a big rip in it. FlatRate Carpet repaired it seamlessly -it looks...
Mrs. Jennifer Patterson, Queens
"I liked that Eric, the technician, cleaned a test spot in my carpet first. It made me feel comfortable with...
Becca McGail, NYC
"I really liked working with Ally. She worked with my crazy schedule and got a technician to my house quickly....
Cassie Michaels, Arverne, NY
"Alex from Flat Rate did a great job cleaning my couches. He gave a great explanation of the quote and price...
Patti McConor, Aberdeen Township, NJ
"..I can't believe how good my house looks after professional carpet cleaning. Thank you, Flat Rate Carpet."
Jake House , Salem, NY
"I really liked the free cleaning test treatment and think they offer very fair pricing. They did an excellent...
Jayden Becker, Staten Island, NY
"I greatly appreciate working with your team to update our home. The service, from coordinating the decor to...
Mary Stanton, Middlesex, NJ
"Hey Ron, I don't know how your guys did it, but the dog smell disappeared, and the rug is like new with no...
Richard, Hempstead, NY
"My living room furniture is looking fresh again - it looks like it did when I bought it!Thanks guys for...
Karen McCarthy, New York
"I got a great clean at a very reasonable price from the team at Flat Rate. I would use you again and again." 
Wendy Davis, Boerum Hill, NY
Protect your health and life style by choosing the organic way
Couch Cleaning in Manhattan
In Upper East Side, Manhattan NY. Done By: Naor
This nice microfiber sofa was covered with dirt and grime, so only a thorough hot water extraction cleaning could save the day.