You Are Not Alone In Bed
We spend a lot of time and effort into keeping our homes beautiful. When something is dirty, we make sure to clean it. But what about cleaning the things we can't see? Consider professional mattress cleaning to clear the risk of unwanted bed guests.
Dust mites live and breed in your mattresses, blankets, pillows, sofas, and carpets. They thrive in warm, dark conditions and can number into the millions. Though you can't see them with a naked eye, their negative effects are noticeable everywhere.
Call us now at (866) 466-4576 for all your mattress cleaning needs in NY, NYC, NJ & CT Or use our
Online Form
.
Sick for No Obvious Reason?
Have you ever woken up with itchy red eyes, sinus pain or sneezing? Have you recently developed asthma, eczema, hay fever or bronchitis?
These symptoms typically indicate a dust mite infestation. Dust mites feed on the dead skin cells that human beings shed every day. After feeding, they leave behind their excrement and this can provoke mild to severe allergic reactions.
Consider the following facts:
We shed thousands of skin cells every day, most of them in our mattresses
Dust mites can feed for up to 170 days on these skin cells
Dust mites produce excrement 200 times heavier than their body weight
Dust mites can live without food for one year
A female dust mite can lay up to 300 eggs at once
Eradicate the Problem, Save Your Health
Simple vacuuming will do nothing to rid your mattress of these tiny pests. Hygiene and allergy problems can only be solved by eradicating them.
But don't despair. Flat Rate Carpet uses a natural, organic, chemical-free process that effectively destroys dust mites, bacteria, spores, allergens, dust, and decaying skin cells.
Anti-Bacterial Mattress Cleaning
To start, we loosen particles of dirt, dust and excrement embedded within your mattress, using special machinery. We then use a special high-powered vacuum to remove all of the waste. This vacuum traps 99.97% of everything it collects.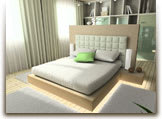 Next, we sterilize the mattress with a chemical-free disinfectant. This process kills all viruses, spores and bacteria within the mattress. Finally, we apply an all-natural, hygienic mattress spray. This spray is not only anti-bacterial, but also, acts as an insect repellent.
No other company leaves your mattress as clean and hygienic as we do. Call us today for service in NY, NYC, NJ & CT.
The Best Methods for Mattress Cleaning
We spend about a third of our life sleeping, yet very few people think of cleaning their mattresses. We wash our sheets, our blankets, our pillowcases, our bed covers; we take care that they don't suffer any stains or spills and if they do we clean them up immediately; but our mattress? Why bother? Well, not only does our mattress absorb about 0.5 pint of our sweat every night (nasty!), it can easily get dusty and stained, which is very apparent when we strip the sheets off it.
Not to worry though – cleaning your mattress is not difficult at all and you don't even have to look up mattress cleaning services or mattress cleaning NYC businesses if you don't wish to. In this article you'll find the ultimate mattress cleaning solution – easy tips on how to keep your mattress clean at all times!
To get rid of dust – vacuum regularly
It's quite unpleasant to sleep on a dusty mattress – but it can also be a health hazard if there's too much dust, and you don't want your respiratory system to suffer, right? Getting rid of the dust, particles, debris, etc. on your mattress is easy enough. Just attach the upholstery tool on your vacuum cleaner (don't forget to check that it's clean) and proceed to vacuum the whole mattress: the top, the bottom and all four sides. For tricky parts like the quilting and various edges and cracks, use the crevice tool. Vacuum your mattress about 4 times a year (once every season) or more, if necessary.
Use suitable detergents to clean stains and spots
Mattresses often get stained by food, beverages, urine, blood (not to alarm anyone – we simply mean blood that comes from scratching a mosquito bite, for example!) and other sources. If it's a liquid stain, quickly blot it up with a wet cloth, and then dry the area with a dry cloth. After that, dab a small amount of a detergent suitable for mattresses on the stain using a clean cloth; or alternatively an enzyme cleaner, which is suitable for biological stains such as urine. Make sure the mattress is dry before you put the sheets on again.
Keep your mattress odor-free by deodorizing it
Dust, stains, sweat and all the other things your mattress suffers can cause it to start emitting an unpleasant odor over time. There are several ways to combat odors. One is to sprinkle the mattress with baking soda, let it sit for at least 30 minutes, then vacuum all the baking soda off. Another method is to spray it with a disinfecting spray (Lysol, for example). In addition, it is highly recommended to take the mattress out into the fresh air once every few months and air it out.
If all else fails – contact professional cleaning services
If you're busy and have no time for cleaning your mattress on your own; if it's a very old mattress in which the dust and stains have already settled in and are very hard to remove; or if it's a very delicate and/or expensive mattress and you're afraid to ruin it – the way to go is to contact mattress cleaning companies and ask them about mattress cleaning cost. You can do so easily by looking up phrases like "mattress cleaning near me" or "mattress cleaning Rochester NY" on Google. It doesn't matter which way you choose as long as your mattress is always nice and clean!
"The carpet in our living room had a big rip in it. FlatRate Carpet repaired it seamlessly -it looks...
Mrs. Jennifer Patterson, Queens
"I liked that Eric, the technician, cleaned a test spot in my carpet first. It made me feel comfortable with...
Becca McGail, NYC
"I really liked working with Ally. She worked with my crazy schedule and got a technician to my house quickly....
Cassie Michaels, Arverne, NY
"Alex from Flat Rate did a great job cleaning my couches. He gave a great explanation of the quote and price...
Patti McConor, Aberdeen Township, NJ
"..I can't believe how good my house looks after professional carpet cleaning. Thank you, Flat Rate Carpet."
Jake House , Salem, NY
"I really liked the free cleaning test treatment and think they offer very fair pricing. They did an excellent...
Jayden Becker, Staten Island, NY
"I greatly appreciate working with your team to update our home. The service, from coordinating the decor to...
Mary Stanton, Middlesex, NJ
"Hey Ron, I don't know how your guys did it, but the dog smell disappeared, and the rug is like new with no...
Richard, Hempstead, NY
"My living room furniture is looking fresh again - it looks like it did when I bought it!Thanks guys for...
Karen McCarthy, New York
"I got a great clean at a very reasonable price from the team at Flat Rate. I would use you again and again." 
Wendy Davis, Boerum Hill, NY
Protect your health and life style by choosing the organic way
Cleaning a Queen Size Mattress in Queens
In East Elmhurst, Queens NY. Done By: Sagiv N.
People are always amazed at how clean their mattress can be, in contrast to how dirty it once was. when it's something you sleep on each day, a dirty mattress is not to be taken for granted.