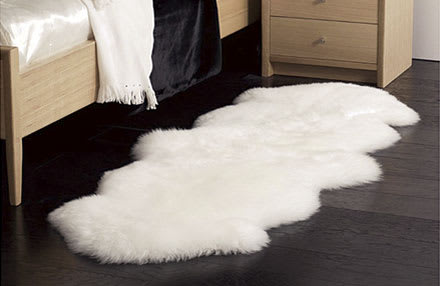 A Rug Unlike Any Other
Since around the ice age, these durable comfort pieces for the ultra-modern NYC apartment or the country cabin getaway rank as favorites in the homes of Americans.
However, because of the soft nature of sheepskin, special care should be taken when cleaning and repairing this kind of rug.
Special Care for Your Sheepskin
At Flat Rate, we use organic products in our cleaning, which are gentle on your rug, but tough on dirt; these green products will protect it, leaving it free of chemicals and detergent residues. We also use a specially designed wire brush in a heat and light-free drying room to restore the rug's fluffy texture. This ensures your sheepskin rug is returned to an optimal condition.
Our Guarantee for a Shining Clean
Because of our tailor-made cleaning and care processes, you can rest assured that your rug is safe with us. We are a reputable and professional rug cleaning company and give you a 100% satisfaction guarantee that we will bring your dull-looking sheepskin back to life.
Local, professional Sheepskin rug cleaning
Sheepskin is a relatively user-friendly material - a good shaking can go a long way to take care of loose dirt and dust. Although frequent washing is not recommended, since it will strip the wool and backing of protective oils, it will be necessary once in a while. However! Washing should be done by a professional; this will help your rug avoid shrinkage and color bleeding - particularly in the case of dyed wool or colored trims.
As the Sheepskin rug experts in NY & NJ we invite you to entrust us with yours, to bring back its softness and clarity of color.
Protect your treasured investment
Our cleaning process (using organic products that do not affect the fibers of the rug) includes: stain and spot removal - whether pet stains or other matter. This is followed by a gentle hand washing and heat and light free drying, to keep the rug as close to its original size as much as possible.
Sheepskin rug remedies that work
When Fluffy the dog has taken a liking to your sheepskin rug and made it his very own chew-toy there is absolutely no need to despair and discard.
With expert technicians to inspect any damage, whenever possible a funky sheepskin will be repaired to look again like that rug that you brought home from the store.
Even if the leather backing of a sheepskin rug dries and cracks (for example, when repeated pet urine or liquids were left to dry on the rug - dry rot sets in and tears start), we will check to see if holes can be repaired by creating new foundation and fiber, or invisible patching.
Our team of specialists work through a detailed process that was created to ensure every rug gets the treatments it needs, according to its state, material and so on. We inspect, recommend, and then deliver, each and every time.
Professional Restoration for Your Sheepskin Treasure
Sheepskin can become discolored by direct sunlight and natural aging. Dark colors in the design can run into the natural un-dyed wool if gotten wet and pet urine can alter the fiber and make it more susceptible to staining.
The natural oils in sheepskin can grab dirt and even smell on their own, let alone holding on to pet odors and marks. These are just some of the reasons why you need a professional rug cleaning and repair company to protect your rug's beauty and style, as well as its value.
Thorough Inspection of Your Rug
We inspect every sheepskin rug that is brought to us in order to give you the fairest evaluation of its damage, and what restoration is possible. Once we begin restoring your rug, we will do our best to refresh its look and color, take away any odors and give a final return of its volume with special brushing. It is all done using only natural, non toxic cleaning products, so you can rest assure your rug will not damaged by harsh chemicals.
Call us now at (866) 466-4576 for all your sheepskin rug needs in NY, NYC, NJ & CT Or use our
Online Form
.
"The carpet in our living room had a big rip in it. FlatRate Carpet repaired it seamlessly -it looks...
Mrs. Jennifer Patterson, Queens
"I liked that Eric, the technician, cleaned a test spot in my carpet first. It made me feel comfortable with...
Becca McGail, NYC
"I really liked working with Ally. She worked with my crazy schedule and got a technician to my house quickly....
Cassie Michaels, Arverne, NY
"Alex from Flat Rate did a great job cleaning my couches. He gave a great explanation of the quote and price...
Patti McConor, Aberdeen Township, NJ
"..I can't believe how good my house looks after professional carpet cleaning. Thank you, Flat Rate Carpet."
Jake House , Salem, NY
"I really liked the free cleaning test treatment and think they offer very fair pricing. They did an excellent...
Jayden Becker, Staten Island, NY
"I greatly appreciate working with your team to update our home. The service, from coordinating the decor to...
Mary Stanton, Middlesex, NJ
"Hey Ron, I don't know how your guys did it, but the dog smell disappeared, and the rug is like new with no...
Richard, Hempstead, NY
"My living room furniture is looking fresh again - it looks like it did when I bought it!Thanks guys for...
Karen McCarthy, New York
"I got a great clean at a very reasonable price from the team at Flat Rate. I would use you again and again." 
Wendy Davis, Boerum Hill, NY
Protect your health and life style by choosing the organic way