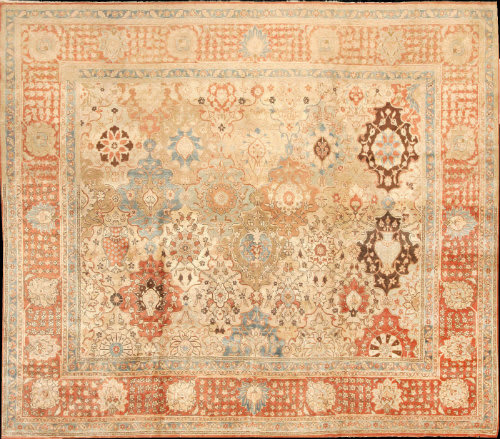 Tabriz oriental rugs are woven and Coming from Tabriz, Iran. Tabriz rugs are very varied in form, pattern and size. It could be a small medallion patterned silk rug, or a large, rounded, wool pierce.
Whatever Tabriz rug you have, you want to preserve it as it is - beautiful, radiant and a real centerpiece to any room it resides in.
Cleaning That Keeps Your Rug Intact
Our expert area rug cleaning services in NY, NYC and NJ will help you maintain your rug qualities, by removing surface and hidden dirt out between every fiber and foundation of Tabriz the rug, so it won't tear its structure over time. Our Tabriz Oriental cleaning process, which applies only non toxic cleaning products, will remove all stains and spots, as well as bring out the rug's original colors.
Silk Oriental Tabriz rug cleaning services
Results That Will Surprise You
At times, your hand woven Tabriz rug will need a touch of repair and restoration. We are not just set to offer these service, but our main specialty is the complete repair and restoration of old rugs. We inspect them thoroughly, and then build an action plan designed to counter the passing years damages. We can fully restore almost any rug - the results surprise even us, at times!
We have the best skills, tools and techniques available in the New York City Metro, along with many years of experience.
WE can bring you back the rug you love and know.
"The carpet in our living room had a big rip in it. FlatRate Carpet repaired it seamlessly -it looks...
Mrs. Jennifer Patterson, Queens
"I liked that Eric, the technician, cleaned a test spot in my carpet first. It made me feel comfortable with...
Becca McGail, NYC
"I really liked working with Ally. She worked with my crazy schedule and got a technician to my house quickly....
Cassie Michaels, Arverne, NY
"Alex from Flat Rate did a great job cleaning my couches. He gave a great explanation of the quote and price...
Patti McConor, Aberdeen Township, NJ
"..I can't believe how good my house looks after professional carpet cleaning. Thank you, Flat Rate Carpet."
Jake House , Salem, NY
"I really liked the free cleaning test treatment and think they offer very fair pricing. They did an excellent...
Jayden Becker, Staten Island, NY
"I greatly appreciate working with your team to update our home. The service, from coordinating the decor to...
Mary Stanton, Middlesex, NJ
"Hey Ron, I don't know how your guys did it, but the dog smell disappeared, and the rug is like new with no...
Richard, Hempstead, NY
"My living room furniture is looking fresh again - it looks like it did when I bought it!Thanks guys for...
Karen McCarthy, New York
"I got a great clean at a very reasonable price from the team at Flat Rate. I would use you again and again." 
Wendy Davis, Boerum Hill, NY
Protect your health and life style by choosing the organic way