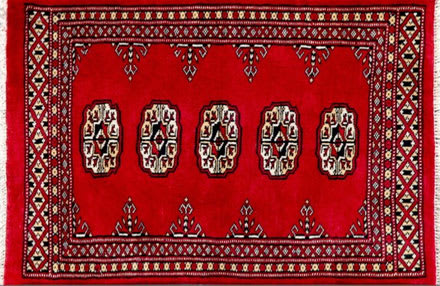 Keep the Shine and Softness
Often made using wool yarn imported from Australia, these strong and durable rugs have a silky texture, resembling Persian rugs' oriental designs.
Especially manufactured for Western buyers, Pakistani rugs need detailed cleaning to keep their shine and softness.
Bring Back a Tired Looking Rug
By choosing Flat Rate Carpet, you can improve not only the look and feel of your rug, but also the lifespan and quality of your rug. The aesthetic improvement will also bring new life to a tired room, and a fresh feeling back into your home.
Organic All the Way
At Flat Rate, we use organic products that are always environmentally friendly, and green for your home. Cleaning your rug will also improve the air quality, as contaminants gathered in the rug's pile will be flushed out and new life flushed in.
Our Guarantee
Call us today for a free at home consultation and written estimate—we give you our guarantee that you will be satisfied with our services!
Local Pakistani rug cleaning, repair and restoration experts
The tradition of Pakistani rug making can be traced to the eleventh century. In fact, some believe the technique of weaving began in that area.
Today's hand-knotted Pakistani rugs maintain that tradition of beauty. Our services in NY & NJ are tailored to each individual rug, cleaning and refreshing its look and feel – including the best care available for beautiful Pakistani rugs.
Who cleans your Pakistani rugs?
With the traffic your rug gets daily; urban dust, dirt from shoes, pet stains and marks, not to mention bacteria and germs, it shouldn't come as a surprise that the colors are greyed and the fibers stiff.
A comprehensive clean, from spot treatments to hand wash, to drying in a temperature controlled environment goes a very long way to renewing your beautiful Pakistani rug's look - and feel underfoot.
Our use of exclusively organic cleaning products ensures that while we are freshening your rug from bacteria and germs, no additional allergens or harsh chemicals will be brought into your home. Green cleaning is one way we show our commitment the health and safety of your family, your family, home and the environment itself.
Expert rug renewal for treasured rugs
Whether you have an antique hand woven rug, or a modern machine knotted one, the fibers used are usually fine wool.
As a natural fiber, pollution and time can create breakdowns in the structure. Daily traffic, which off course adds additional dirt and debris, can also create wear and tear on the rug. Thinned spots on a rug are ripe for turning into holes, tears and rips, becoming a safety issue as well as an esthetic one.
Additionally, some Pakistani rugs will have issues with the edging, as they are sewn in a different manner and could separate from the body of the rug.
Repairs can include:
Reweaving foundation to close holes, or creating a matching patch
Rug overcasting - hand knotting around the fringes, helping them stay intact and solid
Rebinding edges or fringe to contain unraveling
As experts in New York for repair of Pakistani rugs, we are aware of all its unique characteristics, and will examine it closely so any minute damage is seen. Loose edging, tiny holes from moths, and stains that have damaged the fiber will all be taken care of.
Our goal is to return to you a whole, renewed rug that can be enjoyed in your home for years to come.
Skilled Restoration for Your Pakistani Treasure
All restoration services begin after a complete cleaning is done to the rug. Without being cleaned, it is impossible to see true discoloration in a rug. As well, hidden damage might be revealed after debris and dirt are removed.
Since certain factors like sunlight, urine or other liquids can affect rug dyes in a permanent fashion, colors will need to be restored. We offer a highly-specialized color restoration service in NY & NJ with the knowledge and unique tools to restore the appearance and value of your Pakistani rug.
Professional Pakistani rug renewal
We mix vegetable dyes to find the perfect match for your rug's colors. When we find it our highly-skilled rug dyers go to work. Their color restoration service uses the best vegetable dyes available to bring back your rug's color and beauty.
A treasured rug with sunspots, pet marks and discoloration from food stains does not need to be retired to the garage. Our restoration services can bring it back to life, and let you show it again as a gorgeous, valuable part of your home's furnishings.
Call us now at (866) 466-4576 for all your pakistani rug needs in NY, NYC, NJ & CT Or use our
Online Form
.
"The carpet in our living room had a big rip in it. FlatRate Carpet repaired it seamlessly -it looks...
Mrs. Jennifer Patterson, Queens
"I liked that Eric, the technician, cleaned a test spot in my carpet first. It made me feel comfortable with...
Becca McGail, NYC
"I really liked working with Ally. She worked with my crazy schedule and got a technician to my house quickly....
Cassie Michaels, Arverne, NY
"Alex from Flat Rate did a great job cleaning my couches. He gave a great explanation of the quote and price...
Patti McConor, Aberdeen Township, NJ
"..I can't believe how good my house looks after professional carpet cleaning. Thank you, Flat Rate Carpet."
Jake House , Salem, NY
"I really liked the free cleaning test treatment and think they offer very fair pricing. They did an excellent...
Jayden Becker, Staten Island, NY
"I greatly appreciate working with your team to update our home. The service, from coordinating the decor to...
Mary Stanton, Middlesex, NJ
"Hey Ron, I don't know how your guys did it, but the dog smell disappeared, and the rug is like new with no...
Richard, Hempstead, NY
"My living room furniture is looking fresh again - it looks like it did when I bought it!Thanks guys for...
Karen McCarthy, New York
"I got a great clean at a very reasonable price from the team at Flat Rate. I would use you again and again." 
Wendy Davis, Boerum Hill, NY
Protect your health and life style by choosing the organic way