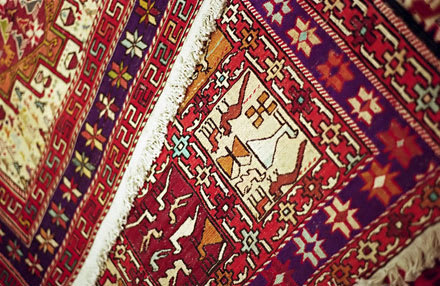 Keep Your Kilim Clean
These coarse-woven rugs, used in the past for bags and tent curtains, were originally woven by nomads for warmth. Using flatweave, and made without pile, Kilims are known for their rectangular shape, flowery motifs, and decorative, yet functional patterns.
Specific Kilim Care
Because most Kilims are made from natural fibers (wool and sometimes silk) and employ a tight weave of weft and warp strands, creating a flat surface, they need special care to preserve these unique characteristics.
Our expert technicians are skilled in varied cleaning and care methods and will gladly assess your Kilim rug for the best cleaning process.
We Protect Your Rug's Health
We only use organic & natural products when cleaning, avoiding the possibility of health risks and annoying allergens released by traditional cleaning products. So, by entrusting us with your rug, you will not only be prolonging the life of the rug but also, protecting your health.
Save Yourself the Hassle
Saving you time and stress, we give you a 100% guarantee that we will do the job well, and that you will enjoy full satisfaction with the final results.
Kilims - the romance of the desert
These stately woven rugs traveled the world to your home - Antique Kilims' motifs can carry messages, speaking of the lives of their makers.
More modern designs can have a stunning contemporary look. They need easy weekly upkeep, such as vacuuming on both sides. And once in a while, assuming there are no surprise emergencies, they need a deep cleaning.
Whether antique or of modern design, Kilims are usually made with natural fibers like wool or cotton and sometimes silk. Since they have no backing and are flexible, removing the dirt and grime trapped in their fibers is key to keeping them in good shape.
Get Your Kilim Back to Normal
We are experts in NY & NJ in the care and cleaning of Kilim rugs. After evaluating and examining it thoroughly, we dust it with a powerful machine. We do stain and spot removal, take care of pet stains or odors and make sure there are no bug larvae infestations that will cause damage to the threads.
The rug will be dried in a temperature-controlled room set for its unique makeup.
All our cleaning solutions are organic and gentle, allowing us to return to you a clean rug that adds to the freshness in your home.
Let your rug stay at its best
Natural fibers like wool or silk, although built to last, are sensitive to direct sunlight and the modern environment full of pollution and chemicals. This is why it is so important to do a regular checkup when vacuuming. Sometimes an older rug can become infested, with moths and their larvae making their home in its threads and creating tiny holes.
Even a Kilim displayed on the wall must be inspected for moths periodically.
Over time, if it is a heavy traffic area, the fibers of a Kilim rug can begin to deteriorate. Edges can become frayed. Rips and holes can appear and the threads unravel. This is ripe for foot catches, which in turn makes the hole larger.
We are the experts in Kilims rug repair for NY & NJ. Our experience and skills allow us to evaluate your Kilim to see exactly what is needed to bring it back to its best state.
A thorough cleaning must be done to see what of the damage can actually be washed away. Holes can be fixed, edges retied and rewound. A skewed rug or wall hanging can be straightened.
Kilim rugs softly
Sunlight can fade even the most robust dyes. A beloved Kilim, part of the household for a long time, might have garnered sun fading and other damage that has discolored or marked its weave.
A Kilims rug restoration always begins with a deep clean. When the rug is clean, any color touch-ups necessary will be matched to the Kilim's freshly revealed original colors. In addition, any grime or pollution that would affect our dyes is removed.
New Look - And a New Smell
An evaluation of your Kilim rug prior to beginning a restoration process is crucial - in order to give you the fairest indication of our ability to bring it back to its original state. We do our best to refresh its look and color and take away any odors. Our expert dyers create colors to match original threads. When the right hues are found, the faded parts disappear and the bold motifs and colors of your Kilim shine.
You will once again have a gorgeous, unique Kilims rug; instead of relegating it to the attic, or worse, having to dispense with it altogether, you will have for years of enjoyment, use, and beauty.
Call us now at (866) 466-4576 for all your kilim rug needs in NY, NYC, NJ & CT Or use our
Online Form
.
"The carpet in our living room had a big rip in it. FlatRate Carpet repaired it seamlessly -it looks...
Mrs. Jennifer Patterson, Queens
"I liked that Eric, the technician, cleaned a test spot in my carpet first. It made me feel comfortable with...
Becca McGail, NYC
"I really liked working with Ally. She worked with my crazy schedule and got a technician to my house quickly....
Cassie Michaels, Arverne, NY
"Alex from Flat Rate did a great job cleaning my couches. He gave a great explanation of the quote and price...
Patti McConor, Aberdeen Township, NJ
"..I can't believe how good my house looks after professional carpet cleaning. Thank you, Flat Rate Carpet."
Jake House , Salem, NY
"I really liked the free cleaning test treatment and think they offer very fair pricing. They did an excellent...
Jayden Becker, Staten Island, NY
"I greatly appreciate working with your team to update our home. The service, from coordinating the decor to...
Mary Stanton, Middlesex, NJ
"Hey Ron, I don't know how your guys did it, but the dog smell disappeared, and the rug is like new with no...
Richard, Hempstead, NY
"My living room furniture is looking fresh again - it looks like it did when I bought it!Thanks guys for...
Karen McCarthy, New York
"I got a great clean at a very reasonable price from the team at Flat Rate. I would use you again and again." 
Wendy Davis, Boerum Hill, NY
Protect your health and life style by choosing the organic way