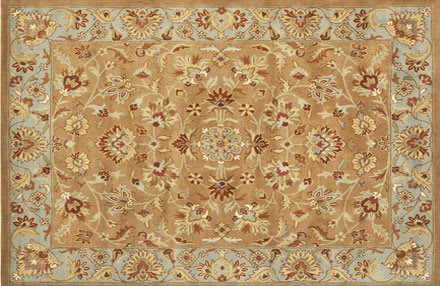 Preserve Your Rug's Handmade Craftsmanship
Handmade rugs often made completely of natural fibers, are rugs that need proper care and handling to ensure their lasting value and beauty.
Hand-Cleaning Techniques for
We use only gentle hand-cleaning methods with organic solutions on handmade rugs. We also make sure to match the weave's style to the original weave, so any repairs we complete are undetectable.
Expert Ability
When you choose Flat Rate Carpet's experts to work on your rug, you can be confident we will use the correct dyes, and appropriately-weathered fabrics, making sure that repairs won't be needed later down the line. Your clean rug will breathe new life into your room and save you the time and hassle of cleaning it yourself.
We are confident in our abilities and give you our guarantee that you will be completely satisfied without services.
Cleaned your rugs lately?
If your Handmade rug is in daily use, over time dirt and grime tracked in by feet and pets build up in its fibers. This weakens the rug's structure and can create places where tears begin. In addition, bacteria and germs are harbored, adding to any allergy triggers in the area.
Thoroughly cleaning your rug will help it keep its luster and ideal shape - and make sure your home's inner space is as fresh as possible for you and your family.
Getting to the bottom
The first step in deep cleaning your rug is dusting. Far from working as a home vacuum cleaner, this powerful process forces out soil and in-ground debris embedded in the very foundations of the rug. You would be amazed to see the amount of grit and dirt released.
Afterward, stains (pet and otherwise) and spots are specially treated. Grime, bug infestations and allergens like mold and mildew are washed away. Drying in a temperature-regulated room makes sure that your Handmade rug is treated to a veritable spa for rugs.
Cherished rugs expertly repaired
Traffic up and down the same routes (which will happen in a hallway or from the sofa to the door, for example) will create localized wear, thinning the fibers and dulling the colors.
This can leave your Handmade rug looking worn and dingy. Not to mention that spots becoming threadbare are more likely to develop into holes. Instead of deciding to retire the rug, bring it in for a repair.
We evaluate every rug brought to us for repair, letting you know exactly what can be done to bring it back to its original, beautiful state.
Holes can be woven in or patched
Edges and binding can be re-woven
Peeling and cracked backing can be replaced and re-tufted.
A wrinkled, warped rug can be stretched and blocked to regain its shape
If your rug has extensive damage, resizing can create a new rug, by cutting it down (in consideration of the pattern), rebinding and fringing.
Make your rug new again
When the (generally) natural fibers of a handmade rug come into contact with direct sunlight, pet urine, moth larvae or other organic substances, alterations to the fibers can begin.
Even with immediate cleaning attention to the marks, fading, deterioration and tiny holes may appear, all of which must be treated in order that irreversible damage does not develop any further.
Who restores your Handmade rug?
It often takes a thorough professional cleaning to find damage to a handmade rug. Every restoration we do is tailored to the type of rug and damage it has endured. Our staff technicians in NY & NJ can spot even the smallest of holes and color changes and will consult with you to ensure you are aware of the work to be done.
Professional vegetable rug dyes, expertly mixed, can bring back your rugs vibrant colors, while faded patches of all sizes can be treated by hand using special tools.
When your rug's restoration is complete, its life will be extended. Enlivening your handmade rug's colors and shape will bring it back as a showpiece in your home decor.
Call us now at (866) 466-4576 for all your handmade rug needs in NY, NYC, NJ & CT Or use our
Online Form
.
"The carpet in our living room had a big rip in it. FlatRate Carpet repaired it seamlessly -it looks...
Mrs. Jennifer Patterson, Queens
"I liked that Eric, the technician, cleaned a test spot in my carpet first. It made me feel comfortable with...
Becca McGail, NYC
"I really liked working with Ally. She worked with my crazy schedule and got a technician to my house quickly....
Cassie Michaels, Arverne, NY
"Alex from Flat Rate did a great job cleaning my couches. He gave a great explanation of the quote and price...
Patti McConor, Aberdeen Township, NJ
"..I can't believe how good my house looks after professional carpet cleaning. Thank you, Flat Rate Carpet."
Jake House , Salem, NY
"I really liked the free cleaning test treatment and think they offer very fair pricing. They did an excellent...
Jayden Becker, Staten Island, NY
"I greatly appreciate working with your team to update our home. The service, from coordinating the decor to...
Mary Stanton, Middlesex, NJ
"Hey Ron, I don't know how your guys did it, but the dog smell disappeared, and the rug is like new with no...
Richard, Hempstead, NY
"My living room furniture is looking fresh again - it looks like it did when I bought it!Thanks guys for...
Karen McCarthy, New York
"I got a great clean at a very reasonable price from the team at Flat Rate. I would use you again and again." 
Wendy Davis, Boerum Hill, NY
Protect your health and life style by choosing the organic way