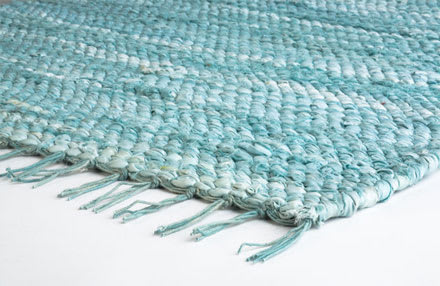 Keep Your Cotton Rug's Quality
Gentle on the environment, but strong on quality, these eco-friendly, hard wearing, stylish weaves are becoming increasingly popular in homes across the United States.
A Soft and Supple Rug
Cotton's soft and supple fibers need organic cleaning products to keep the material in the best possible shape. At Flat Rate, we offer not only organic cleaners but also green cleaning methods to keep your cotton rug and the environment at its best.
We are also adept at repairs and restoring your carpet's texture to its previous condition.
Make Your Investment Last
By calling us you will not only save time, money, and the energy of finding someone who can actually care for your rug, but you will be saving your investment from bad repairs and poorly developed cleaning processes.
We guarantee that you will be 100% satisfied with our work and that you will call us time and again to help clean and repair your rug.
Call us now at (866) 466-4576 for all your cotton rug needs in NY, NYC, NJ & CT Or use our
Online Form
.
"The carpet in our living room had a big rip in it. FlatRate Carpet repaired it seamlessly -it looks...
Mrs. Jennifer Patterson, Queens
"I liked that Eric, the technician, cleaned a test spot in my carpet first. It made me feel comfortable with...
Becca McGail, NYC
"I really liked working with Ally. She worked with my crazy schedule and got a technician to my house quickly....
Cassie Michaels, Arverne, NY
"Alex from Flat Rate did a great job cleaning my couches. He gave a great explanation of the quote and price...
Patti McConor, Aberdeen Township, NJ
"..I can't believe how good my house looks after professional carpet cleaning. Thank you, Flat Rate Carpet."
Jake House , Salem, NY
"I really liked the free cleaning test treatment and think they offer very fair pricing. They did an excellent...
Jayden Becker, Staten Island, NY
"I greatly appreciate working with your team to update our home. The service, from coordinating the decor to...
Mary Stanton, Middlesex, NJ
"Hey Ron, I don't know how your guys did it, but the dog smell disappeared, and the rug is like new with no...
Richard, Hempstead, NY
"My living room furniture is looking fresh again - it looks like it did when I bought it!Thanks guys for...
Karen McCarthy, New York
"I got a great clean at a very reasonable price from the team at Flat Rate. I would use you again and again." 
Wendy Davis, Boerum Hill, NY
Protect your health and life style by choosing the organic way