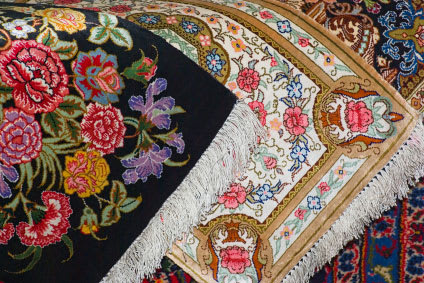 Thorough cleaning, repair and restoration for Chinese rugs
China has produced hand-knotted woven rugs for centuries. Their soft pastels create a look of quiet elegance. Vintage Chinese rugs' luxurious feel and gorgeous colors and designs are meant to last as a mainstay of decor in your home, and perhaps eventually a family design heirloom.
Our care of Chinese rugs in NY & NJ is knowledgeable and skilled. We clean, repair and restore amazing Chinese rugs to their glory.
Chinese rug remedies that work
We can heal sick Chinese rugs. Among the many types of majestic Oriental and Western rugs we handle - Persian, Tribal and Navajo, to name a few, a huge, elaborate Chinese dragon motif commands respect. Our cleaning methods are tailored to each rug we handle, whether natural or manmade fibers.
As the initial part of the cleaning process, dusting expels all the ground-in dirt, grime, organic matter and grit that has collected deep in its weave and fibers. Handwashing, spot treating and more combine to bring out the best in your Chinese rug.
Natural cleaning solutions are how we help to doubly take care of your home - first by bringing back a beautifully cleaned, groomed and fresh rug, and also ensuring any products we used leave no harsh chemical residue.
Chinese Rug Cleaning
Known for its thick, soft, and flexible pile, your Chinese rug needs expert care to keep it looking its best.
Want to keep the look of the detailed dragon motif? What about the beautiful geometric border, so characteristic of Chinese weaving? At Flat Rate Carpet, we will specially design a cleaning and care process around the needs of your particular rug, to keep it in optimum condition.
Extend Your Rug's Life
With thorough cleaning, all of the dirt and allergens that have built up over time will be removed from the pile, extending the rug's lifespan. All of our products are clean, safe, natural, and organic; combined with environmentally-friendly cleaning methods, the health of you and your family is assured.
Call us today to receive a free estimate. We guarantee you will be 100% satisfied with the quality of our services.
Cherished Chinese rugs, expertly repaired
Not everyone has the knowledge and experience to repair Chinese rugs. Flat Rate Carpet has both. We offer expert repair of Chinese rugs in NY & NJ. We use both classic and modern methods to turn back time on your valued rug.
When we receive rugs for repair, our first step it to give it a cleaning treatment, in order for the true scope of any damage or problems to be made obvious. Once it is cleaned and dried, we can have a look at the structure, elements and coloring.
Structural and elemental repair:


Holes, fringe and binding can, in general, all be repaired. Either a hole will be re-woven, or a patch created. Fringe can be strengthened with overcasting, or replaced altogether. Edges and binding can all be done up to look as if there was never a problem.



Restyling your Chinese rug:


A warped or crooked rug might be the result of loose or cracked backing, which can be replaced. Wrinkles and folds can be blocked back to smoothness.

A highly damaged rug can be turned into a smaller one, by resizing - giving a new shape with the fitting sides and ends.
Return your Chinese rug to glory
During its long life, a beautiful rug can be exposed to many elements: sunlight, pets, people, organic matter of all sorts and different liquids. When some of these comes into contact with a rug's fibers, if quickly treated on the spot may cause no lasting damage: spilled water, crumbs, dirt, etc. But pet urine can attack fibers, creating discoloration. And direct sunlight over the course of time will fade a rug's bright colors.
One of the main elements of Chinese rugs are their intricate patterns in wonderful colors. When you notice your rug's colors have altered, we offer highly-specialized color restoration service in NY & NJ. We can evaluate the changes and talk to you about options in addressing them.
Restoration by experts
To restore a Chinese rug takes knowledge, skill and top of the line tools. We have all three at Flat Rate Carpet. First, we wash a rug to get a perfect snapshot of its condition - once clean, any damage is in its true state. When this is clarified, any remaining discoloration is taken on by our highly skilled dyers.
Their color restoration service uses the best vegetable dyes available to bring back your rug's color and beauty.


Call us now at (866) 466-4576 for all your area rug needs in NY, NYC, NJ & CT Or use our
Online Form
.
"The carpet in our living room had a big rip in it. FlatRate Carpet repaired it seamlessly -it looks...
Mrs. Jennifer Patterson, Queens
"I liked that Eric, the technician, cleaned a test spot in my carpet first. It made me feel comfortable with...
Becca McGail, NYC
"I really liked working with Ally. She worked with my crazy schedule and got a technician to my house quickly....
Cassie Michaels, Arverne, NY
"Alex from Flat Rate did a great job cleaning my couches. He gave a great explanation of the quote and price...
Patti McConor, Aberdeen Township, NJ
"..I can't believe how good my house looks after professional carpet cleaning. Thank you, Flat Rate Carpet."
Jake House , Salem, NY
"I really liked the free cleaning test treatment and think they offer very fair pricing. They did an excellent...
Jayden Becker, Staten Island, NY
"I greatly appreciate working with your team to update our home. The service, from coordinating the decor to...
Mary Stanton, Middlesex, NJ
"Hey Ron, I don't know how your guys did it, but the dog smell disappeared, and the rug is like new with no...
Richard, Hempstead, NY
"My living room furniture is looking fresh again - it looks like it did when I bought it!Thanks guys for...
Karen McCarthy, New York
"I got a great clean at a very reasonable price from the team at Flat Rate. I would use you again and again." 
Wendy Davis, Boerum Hill, NY
Protect your health and life style by choosing the organic way