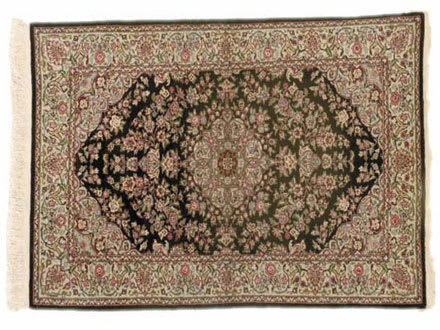 Delicate Care for Your Special Antique
Antique rugs (that is, rugs over 60 years old) are delicate handcrafts that need special care and attention to ensure their beauty is preserved.
Our Gentle Process
At Flat Rate, after determining a rug's specific treatment, the rug will be dusted, hand-washed in an immersion bath, and then carefully laid flat to dry in a climate-controlled room. This tailor-made process will not only clean your antique rug but also improve its sheen and feel.
Only Organic
We use organic products when cleaning to ensure that not only your rug is protected from harsh and abrasive chemicals, but also the environment, and the health of you and your family.
Your Satisfaction is Guaranteed
We give you a 100% guarantee that the cleaning and repairs given to your antique rug are first-rate and that you will be more than satisfied with the results.
Proven expert cleaning for Antique rugs
Antique rugs could be a family heirloom or a gift by someone close to you. It may be valuable to you because you chose it yourself, after looking for a long time for the perfect rug.
And now it got dirty, it looks faded, or it has a new smell you are not pleased with. That where we come in, we are expert antique rug cleaning services in New York & New Jersey.
Our Process
In order to have your antique rug cared the way it should, we developed a process which both protects the rug while being cleaned (the use of a cleaning patch) and gets it thoroughly cleaned - the use of "dusting", which is crucial. We then apply any of our 100% organic methods, whether it dry cleaning or with the right use of water. Since your rug may be walked on daily and could suffer from wear and tear, we deal with it delicately, and keep its unique qualities alive and well.
Add time to your rug's life
With the right cleaning process, your antique rug can look and feel better for a long time. Our tools and methods are aimed at extending your rugs' life while keeping it looking as beautiful as ever.
We make Antique rugs new
Not everyone has the skill and equipment to repair Antique rugs. We do. We offer complete repair of Antique rugs in New York and guarantee an expert service that provides quality care, meeting the highest standards.
Antique Reweaving
No matter how big the hole is in your rug, we have a solution for it. We can reweave a whole new foundation while matching the material in color and style.

Antique fringe repair and replace
Fringes are the most susceptible part of the rug when it comes to wear and tear. Since it's not always weaved into the foundation, fringes often start to pull out and go missing. We repair or replace entire rows of fringes, either by hand or by machine. After we care for it, it would look natural and will be connected strongly to the rug.

Antique Rug Binding
Binding is a very visible part of your rug and one that can also be – relatively - easily damaged. Depends on the state of it, we chose our process: by hand or by machine. After we finish, your rug binding will look fully compatible with the rest of your rug.

Antique Rug Re-sizing
Rug resizing is a process in which the technicians cut the rug into a smaller size, in order to take care of any damages caused to the outside edges of your rug.

Antique Rug Blocking
Our blocking service, which comes after the cleaning stage in our process, is used often on thinner rugs, in order to keep it smooth and without any wrinkles.

Antique Rug Overcasting
Overcasting is an expert service, designed to make your rugs foundations and fringes stronger. It also keeps your fringes from becoming undone and an eyesore.
Professional Restoration for your Antique Rug
An antique rug is an investment, and often a personal treasure, but it can also be a real problem to look after. We're not always as careful as we should be with our possessions, and even antique rugs can become damaged and soiled.
Other rug cleaning companies may remove the visible stains, but may not get rid of all the dust building up inside of your rug, and weakening its foundations.
They also may not be able to fix fibers weakened by water damage, or damaged by acid in harsh cleaning products or urine.
Return to its original state
Flat Rate Carpet has the experience, skill, and supplies to restore your antique rug. We provide excellent rug restoration services for the Greater New York area, including New Jersey and Connecticut.
We not only fix the stains and remove dirt from your rug, but we also clean your rug through to its foundations. We fix and straighten fringing, repair and replace backing, restore color using only organic vegetable-based dyes and deodorize your rug so that it looks and smells fresh.
We do this with the greatest of care, but we understand how delicate and unique each antique rug is, and how precious it is to you.
Call us now at (866) 466-4576 for all your antique rug needs in NY, NYC, NJ & CT Or use our
Online Form
.
"The carpet in our living room had a big rip in it. FlatRate Carpet repaired it seamlessly -it looks...
Mrs. Jennifer Patterson, Queens
"I liked that Eric, the technician, cleaned a test spot in my carpet first. It made me feel comfortable with...
Becca McGail, NYC
"I really liked working with Ally. She worked with my crazy schedule and got a technician to my house quickly....
Cassie Michaels, Arverne, NY
"Alex from Flat Rate did a great job cleaning my couches. He gave a great explanation of the quote and price...
Patti McConor, Aberdeen Township, NJ
"..I can't believe how good my house looks after professional carpet cleaning. Thank you, Flat Rate Carpet."
Jake House , Salem, NY
"I really liked the free cleaning test treatment and think they offer very fair pricing. They did an excellent...
Jayden Becker, Staten Island, NY
"I greatly appreciate working with your team to update our home. The service, from coordinating the decor to...
Mary Stanton, Middlesex, NJ
"Hey Ron, I don't know how your guys did it, but the dog smell disappeared, and the rug is like new with no...
Richard, Hempstead, NY
"My living room furniture is looking fresh again - it looks like it did when I bought it!Thanks guys for...
Karen McCarthy, New York
"I got a great clean at a very reasonable price from the team at Flat Rate. I would use you again and again." 
Wendy Davis, Boerum Hill, NY
Protect your health and life style by choosing the organic way