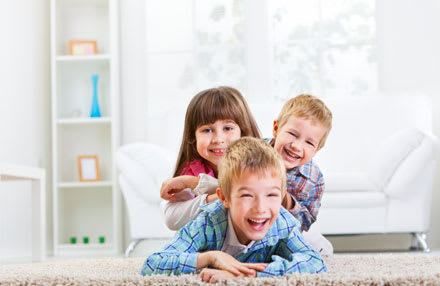 Turkish Rug Making - An Ancient Industry
Turkey's rug-making tradition is thought to be as old as Persia's. Turkish rugs found in several mosques in central Anatolia can be traced back to the late 11th century, when rug weaving was introduced by the Seljuk sovereignty. With a strong Persian influence, Turkish rugs of this era incorporated stylized floral and geometrical patterns in several basic colors. In the 14th Century, animal figures began to appear in designs. During the Ottoman reign, court workshops were set up and exceptionally fine carpets were used to decorate Ottoman palaces, and given as gifts to European royalty.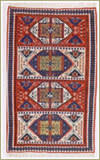 Within Turkey, there are numerous areas known for carpet weaving, each with their own color combinations and designs. Some of the main carpet production areas in Turkey are Ousak, Konya, Bergama, Hereke, Gördes, Kula, Ladik, Sivas, Milas, Antalya, Fethiye, Kirsehir, Nigde, Kayseri and Isparta. Turkish rugs are both created through hand knotting and flat weaving using a variety of materials, including silk on silk, wool on cotton, wool on wool, and viscose on cotton. They are mainly based on geometric motifs and frequently red and blue. Green, the sacred color, is used on prayer rugs. Anatolian carpets tend to come in smaller sizes, with the exception of Ushaks. The majority of Anatolian carpets are prayer rugs with the distinctive mihrab motif.
Styles synonymous with Turkish rugs are Kilim and Oushak (Ushak). Kilim rugs are the most well-known group of flat-woven rugs. They take less time to weave; as a result, they are generally less expensive than pile (knotted) rugs. The main difference between kilims and pile rugs is that in kilims the weft strands create the colorful patterns and no rows of knots are added. The weft strands, unlike a pile rug, are discontinuous. They do not pass through the warp strands from edge to edge. The weft strands are passed through a few warp strands; then, they loop back around when they reach a section where a new color weft is needed.

Oushak rugs originated in the small town of Oushak in west central Anatolia, which is about 100 miles south of Istanbul. Because of its easy access to wool, dyes and the international market, Oushak has been a production center of rugs since the 15th Century. Oushak rugs are distinguished by their Persian-influenced designs. Oushak rugs, because they are 100% wool and very high quality, are very much in demand.
"The carpet in our living room had a big rip in it. FlatRate Carpet repaired it seamlessly -it looks...
Mrs. Jennifer Patterson, Queens
"I liked that Eric, the technician, cleaned a test spot in my carpet first. It made me feel comfortable with...
Becca McGail, NYC
"I really liked working with Ally. She worked with my crazy schedule and got a technician to my house quickly....
Cassie Michaels, Arverne, NY
"Alex from Flat Rate did a great job cleaning my couches. He gave a great explanation of the quote and price...
Patti McConor, Aberdeen Township, NJ
"..I can't believe how good my house looks after professional carpet cleaning. Thank you, Flat Rate Carpet."
Jake House , Salem, NY
"I really liked the free cleaning test treatment and think they offer very fair pricing. They did an excellent...
Jayden Becker, Staten Island, NY
"I greatly appreciate working with your team to update our home. The service, from coordinating the decor to...
Mary Stanton, Middlesex, NJ
"Hey Ron, I don't know how your guys did it, but the dog smell disappeared, and the rug is like new with no...
Richard, Hempstead, NY
"My living room furniture is looking fresh again - it looks like it did when I bought it!Thanks guys for...
Karen McCarthy, New York
"I got a great clean at a very reasonable price from the team at Flat Rate. I would use you again and again." 
Wendy Davis, Boerum Hill, NY
Protect your health and life style by choosing the organic way