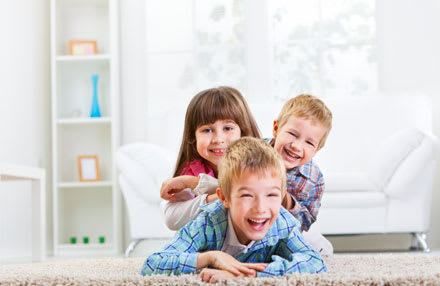 Ancient Rug Making Culture -
Handmade Tibetan Rugs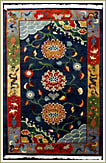 Tibetan rug making is an ancient art and tradition of the nomadic people, who made rugs originally for their personal use – from floor coverings to horse saddles. Tibetan carpets were influenced more by tribal culture than Persian or Turkish design. What is unique about Tibetan rugs is that everything is virtually done by hand. Tibetans used wool from the tribes' sheep or other animals, which created long, high quality shiny strands of yarn. The rugs are woven by wrapping a continuous length of yarn over a rod laid across the warps stretched on the loom. When the rod has been wrapped for its entire length, a knife is slid along the rod, cutting the wrapped yarn into two rows of pile tufts. Additional distinguishing characteristics of Tibetan rugs are their vivid colors, huge and few motifs, and relatively plain and dominant backgrounds. The background colors are primarily blue, black, red, and orange. The motifs are woven in red, orange, pink, yellow, beige, blue, green and white.
In the early 1950s, when Chinese communists occupied Tibet, the Tibetan refugees fled to India and Nepal and brought their unique rug making expertise with them. Today, the rug making business is one of the largest industries in Nepal.
Types and styles of Tibetan rugs are categorized by their design, such as medallions, flowers and rosettes, mythological animal motifs, and geometric. Medallion designs are characterized by one or three central medallions with multiple borders. The medallions are typically square surrounded by flowers, or round with flower inside. The flowers can be lotus or peonies. Rosette- and floral-design styles either have two or three large flowers in the center with borders or flowers scattered throughout the entire carpet with no borders. The mythological animal and bird designs include the dragon, the phoenix, the white Manchurian crane, the bat and the bee. Sometimes they come in a medallion layout or are in an all-over layout. Usually there are no more than four of the shapes in one rug. The geometric designs, which are less frequently seen, come in a paneled, all-over layout with flat-looking flowers inside either square or diamond cells.
"The carpet in our living room had a big rip in it. FlatRate Carpet repaired it seamlessly -it looks...
Mrs. Jennifer Patterson, Queens
"I liked that Eric, the technician, cleaned a test spot in my carpet first. It made me feel comfortable with...
Becca McGail, NYC
"I really liked working with Ally. She worked with my crazy schedule and got a technician to my house quickly....
Cassie Michaels, Arverne, NY
"Alex from Flat Rate did a great job cleaning my couches. He gave a great explanation of the quote and price...
Patti McConor, Aberdeen Township, NJ
"..I can't believe how good my house looks after professional carpet cleaning. Thank you, Flat Rate Carpet."
Jake House , Salem, NY
"I really liked the free cleaning test treatment and think they offer very fair pricing. They did an excellent...
Jayden Becker, Staten Island, NY
"I greatly appreciate working with your team to update our home. The service, from coordinating the decor to...
Mary Stanton, Middlesex, NJ
"Hey Ron, I don't know how your guys did it, but the dog smell disappeared, and the rug is like new with no...
Richard, Hempstead, NY
"My living room furniture is looking fresh again - it looks like it did when I bought it!Thanks guys for...
Karen McCarthy, New York
"I got a great clean at a very reasonable price from the team at Flat Rate. I would use you again and again." 
Wendy Davis, Boerum Hill, NY
Protect your health and life style by choosing the organic way