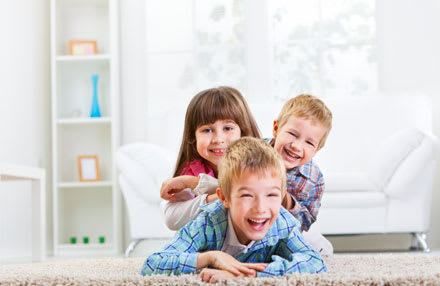 Bokhara Pakistani Rugs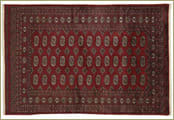 Pakistani rug design dates back to the Moghul dynasty. Babur, the first Moghul Shah from 1526 to 1530. Ten years after his death, his son and successor, Humayan, was forced into exile by an Afghan revolt and spent nine years at the Persian court of Shah Tahmasp. In 1549, Humayan returned to India and brought with him his love of Persian art. His son Akbar the Great was his successor and established carpet workshops, many of which were under the supervision of Persian carpet weavers. At Partition of India and Pakistan in 1947, the carpet weavers, who were predominantly Muslim, migrated to Lahore in Pakistan.
There are many designs today produced in Pakistan, ranging from the Moghul Kashmir and Persian designs to very fine quality Bokharas.
The most popular style of Pakistani rugs is the Bokhara, which are produced near the city of Lahore. The name for this type comes from the city of Bokhara in Uzbekistan. A century ago rugs in designs like modern Bokharas were woven by Turkomans north of present day Afghanistan. Turkomans bartered rugs for goods they could not produce themselves, and many of their weaving accumulated in bazaar cities like Bokhara. Eventually the name of the city became associated with the rugs themselves, and this historical misnomer continues today. Bokhara rugs are made of cotton and wool, and sometimes with "silk" inlays, called "Jaldar." Jaldar is almost always artificial silk made from cotton. Most of the wool used is from New Zealand. They can be found in very low quality (50 knots per square inch) to very tightly woven pieces (~300 knots per square inch). High-quality Bokharas are closely clipped and their intricate designs are very clear. Red and rust colors are mostly found in Bokharas, but they can also incorporate ivory, navy, green, slate, teal, peach, rose and orange. The designs consist of rows of "Tekke" medallions, similar to those used in Turkoman style rugs, and are named after Turkoman tribal groups, such as Yomud, Salor and Ersari.

Moghul carpet designs are similar to Persian, yet they often have thicker textures. They are distinguished by medallions and flowering plants, and sometimes scenes depicting hunting sprees, animals, and birds are woven into the design. Delicate trellis motifs, characteristic of Moghul design, are also employed in a variety of ways, some more traditional, others more innovative.
"The carpet in our living room had a big rip in it. FlatRate Carpet repaired it seamlessly -it looks...
Mrs. Jennifer Patterson, Queens
"I liked that Eric, the technician, cleaned a test spot in my carpet first. It made me feel comfortable with...
Becca McGail, NYC
"I really liked working with Ally. She worked with my crazy schedule and got a technician to my house quickly....
Cassie Michaels, Arverne, NY
"Alex from Flat Rate did a great job cleaning my couches. He gave a great explanation of the quote and price...
Patti McConor, Aberdeen Township, NJ
"..I can't believe how good my house looks after professional carpet cleaning. Thank you, Flat Rate Carpet."
Jake House , Salem, NY
"I really liked the free cleaning test treatment and think they offer very fair pricing. They did an excellent...
Jayden Becker, Staten Island, NY
"I greatly appreciate working with your team to update our home. The service, from coordinating the decor to...
Mary Stanton, Middlesex, NJ
"Hey Ron, I don't know how your guys did it, but the dog smell disappeared, and the rug is like new with no...
Richard, Hempstead, NY
"My living room furniture is looking fresh again - it looks like it did when I bought it!Thanks guys for...
Karen McCarthy, New York
"I got a great clean at a very reasonable price from the team at Flat Rate. I would use you again and again." 
Wendy Davis, Boerum Hill, NY
Protect your health and life style by choosing the organic way