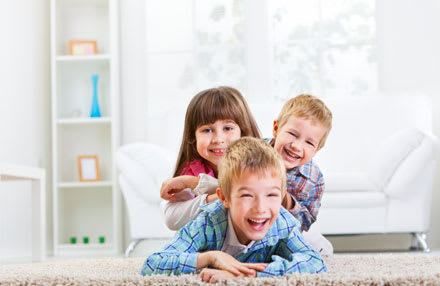 Urban or Tribal?
Handmade Moroccan Rugs

Moroccan weaving began before the 17th century and was carried out by the Berbers - an indigenous tribe that occupied the Middle and High Atlas around the Plains of Marrakesh. The weaving, carried out by women, produced rugs, blankets and fabric wall-coverings, for domestic purposes. Berber tribes continue to preserve the techniques of their ancestors handed down from mother to daughter.
Moroccan rugs can be divided into two groups: Urban and Tribal. The main difference between the two is that in tribal rugs there is less symmetry in the overall design, and in many cases no borders exist.
Urban rug designs, such as those produced in Rabat, are characterized by their long and narrow fields, which typically include double-ended medallions or all-over diamonds with two large and side-by-side triangles at each end of the rug. The background is typically red and the motifs, which are often tulips, have bright colors. After World War I, the colors became softer, with floral motifs on a plain field. Other urban designs are produced in Mediouna, near Casablanca, and typically have a wider field with three or more octagonal medallions.
Tribal designs from the Plains of Marrakesh are very diverse. Pile rugs from the Chiadma area and the Oulad Bou Sbaa tribes have a unique mixture of medallions, borders, and motifs characteristic of Rabat or the traditional tribal bands with geometric motifs. The rugs of the Rehamna tribe, on the other hand, have unique free-form designs.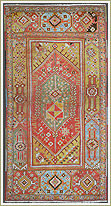 Tribal rugs made in High Atlas have symmetrical designs. The field contains a square, rectangular or diamond medallion. There also can be one or more diamond shapes within the medallion. The rest of the field can consist of diamond lattices, all-over motifs in rows or columns, or bands of geometric motifs. The older rugs tend to have no borders or a very narrow border, and even in the flat weaves, the designs are created with knots. Tribal rugs from the Zemmour Confederation are often symmetrical in the design. The pile rugs often have geometric motifs on a red background. Flat weaves frequently consist of bands of stripes – either plain or using geometric patterns. The flat weaves are very colorful and make use of white cotton to create contrast.
The pile rugs and flat weaves of the Middle Atlas are very similar to the rugs of Zemmour Confederation, with the exception of their asymmetrical designs.
"The carpet in our living room had a big rip in it. FlatRate Carpet repaired it seamlessly -it looks...
Mrs. Jennifer Patterson, Queens
"I liked that Eric, the technician, cleaned a test spot in my carpet first. It made me feel comfortable with...
Becca McGail, NYC
"I really liked working with Ally. She worked with my crazy schedule and got a technician to my house quickly....
Cassie Michaels, Arverne, NY
"Alex from Flat Rate did a great job cleaning my couches. He gave a great explanation of the quote and price...
Patti McConor, Aberdeen Township, NJ
"..I can't believe how good my house looks after professional carpet cleaning. Thank you, Flat Rate Carpet."
Jake House , Salem, NY
"I really liked the free cleaning test treatment and think they offer very fair pricing. They did an excellent...
Jayden Becker, Staten Island, NY
"I greatly appreciate working with your team to update our home. The service, from coordinating the decor to...
Mary Stanton, Middlesex, NJ
"Hey Ron, I don't know how your guys did it, but the dog smell disappeared, and the rug is like new with no...
Richard, Hempstead, NY
"My living room furniture is looking fresh again - it looks like it did when I bought it!Thanks guys for...
Karen McCarthy, New York
"I got a great clean at a very reasonable price from the team at Flat Rate. I would use you again and again." 
Wendy Davis, Boerum Hill, NY
Protect your health and life style by choosing the organic way