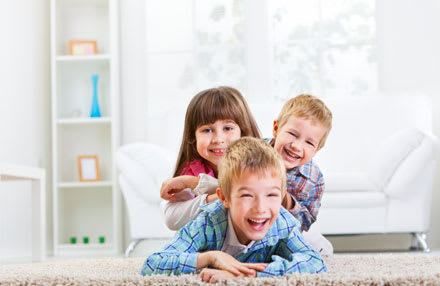 Mamluk Rugs - Egyptian Carpet Heritage
Early Egyptian rug weaving can be divided into the two periods: the Mamluks and Ottomans. Egypt's greatest period of rug weaving was during the rule of Mamluks from the fifteenth century until the early sixteenth century. Rugs produced during this time were known as Mamluks. Mamluk sultans were generous patrons of the Islamic arts and the time of their reign was considered to be the pinnacle of Islamic Art in Egypt. After the conquest of Ottoman Turks in 1517, the rugs took on more Turkish influence and were known as Ottomans. After the eighteenth century, rug production decreased dramatically in Egypt. However, in the 1950's because of import restrictions, Egypt began to produce handmade rugs in and around Cairo.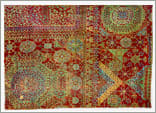 Mamluk rugs are extremely rare and are considered to be the finest carpets ever produced. They are created in a three-color palette of jewel-toned reds, blues and greens, and feature magnificent designs based on geometric shapes and stylized leaf forms. The use of simple geometric forms repeated within circles and squares. Mamluk rug design often features a central square set within a rectangular format. Within the central square there is generally a central geometric motif. The leaf forms in clusters and vines are found in the borders and background and represent Arabic calligraphy. There are equal number of knots in both horizontal and vertical directions that allowed weavers to create perfect circles and squares. They also have a striking color and sheen from the use of high-quality wools and saturated dyes.
Ottoman carpets, first woven in Cairo between 1540 and 1550, have a combination of colors and designs similar to the jewel-tone and geometric shapes found in Mamluk carpets. Soon after, their style became popular and began appearing more and more. Designs usinglancet leaves (saz), palmettes and medallions combined with motifs of tulips, hyacinths, carnations and pomegranates made their mark. Persian (Sine) knots instead of the Turkish were employed, giving the carpets extremely rich and elegant designs.
"The carpet in our living room had a big rip in it. FlatRate Carpet repaired it seamlessly -it looks...
Mrs. Jennifer Patterson, Queens
"I liked that Eric, the technician, cleaned a test spot in my carpet first. It made me feel comfortable with...
Becca McGail, NYC
"I really liked working with Ally. She worked with my crazy schedule and got a technician to my house quickly....
Cassie Michaels, Arverne, NY
"Alex from Flat Rate did a great job cleaning my couches. He gave a great explanation of the quote and price...
Patti McConor, Aberdeen Township, NJ
"..I can't believe how good my house looks after professional carpet cleaning. Thank you, Flat Rate Carpet."
Jake House , Salem, NY
"I really liked the free cleaning test treatment and think they offer very fair pricing. They did an excellent...
Jayden Becker, Staten Island, NY
"I greatly appreciate working with your team to update our home. The service, from coordinating the decor to...
Mary Stanton, Middlesex, NJ
"Hey Ron, I don't know how your guys did it, but the dog smell disappeared, and the rug is like new with no...
Richard, Hempstead, NY
"My living room furniture is looking fresh again - it looks like it did when I bought it!Thanks guys for...
Karen McCarthy, New York
"I got a great clean at a very reasonable price from the team at Flat Rate. I would use you again and again." 
Wendy Davis, Boerum Hill, NY
Protect your health and life style by choosing the organic way