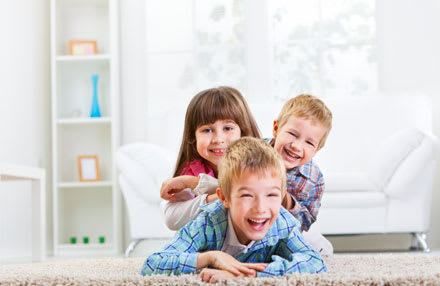 Technology & Heritage In Contemporary Rugs
Although advances in technology have changed the way some rugs are produced, culture and art continue to have a strong influence on rug designs. That doesn't mean to state that many contemporary rugs are not still hand-woven and based on ancient designs. Many countries still sustain the carpet-making practices and traditions handed down through many generations. It also doesn't mean to state that some of the machine-made rugs using modern technology are lower quality or less valuable, or that the modern designs are any less beautiful or impressive.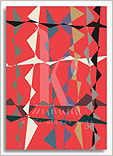 In the 1800's the mechanized loom was invented by Joseph Marie Jacquard. By using punch cards to determine the colors of threads seen on the upper side, the Jacquard loom provided the ability to create detailed designs more efficiently and quickly. Others continued to build on this type of mechanical loom technology, making it more powerful and efficient. Around the same time, synthetic dyes were invented, which grew in popularity because they were inexpensive and created brilliant colors. In the mid-1900's, synthetic fibers became popular. Nylon was introduced in 1947 and polyester and polypropylene came on the scene 1965. However, it was nylon filament yarns that were the most important development because of their luxurious quality, durability and similarity to wool, plus they were very economical to produce.
Today, whether handmade or machine-made, contemporary rugs are produced all over the world. The primary differences are that with machine made rugs there are no knots - the threads instead are looped or glued onto a hot latex backing with cools and hardens. Machine made rugs are much more uniform, creating a more static design. One can distinguish between a handmade rug and a machine rug by looking at the back of the rug. Machine made rugs have extremely regular knots and even structure always identical in one part of the carpet to another. Hand-knotted rugs all vary slightly due to the fact of slightly different tension on the wool as people hand tie the knots. The sides and ends are another way to identify if a rug is machine made or hand knotted. The sides and ends of a machine-made rug are perfectly even, as opposed to a hand-knotted rug, which will be irregular and imperfect.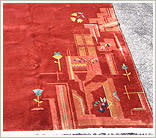 With regard to rug design, many contemporary designs are still based on ancient Eastern patterns, such as those created in Persia, Turkey and Asia. However, other influences include the late 19th century arts and crafts movement in Europe and the United States. Art Nouveau was a movement that greatly influenced artists and designers and later progressed onto the De Stijl movement (from 1880-1905) and the German Bauhaus school (early 1920's-1930's). Art Deco was another design movement in the same era that has had a strong influence on contemporary rugs. All three styles are reminiscent of stained glass or fine metalwork, and employ soft colors evoking the beauty of the natural world. Today's contemporary designs continue draw from a wide range of inspirations – from cutting-edge contemporary architecture and art to elements found in nature.
"The carpet in our living room had a big rip in it. FlatRate Carpet repaired it seamlessly -it looks...
Mrs. Jennifer Patterson, Queens
"I liked that Eric, the technician, cleaned a test spot in my carpet first. It made me feel comfortable with...
Becca McGail, NYC
"I really liked working with Ally. She worked with my crazy schedule and got a technician to my house quickly....
Cassie Michaels, Arverne, NY
"Alex from Flat Rate did a great job cleaning my couches. He gave a great explanation of the quote and price...
Patti McConor, Aberdeen Township, NJ
"..I can't believe how good my house looks after professional carpet cleaning. Thank you, Flat Rate Carpet."
Jake House , Salem, NY
"I really liked the free cleaning test treatment and think they offer very fair pricing. They did an excellent...
Jayden Becker, Staten Island, NY
"I greatly appreciate working with your team to update our home. The service, from coordinating the decor to...
Mary Stanton, Middlesex, NJ
"Hey Ron, I don't know how your guys did it, but the dog smell disappeared, and the rug is like new with no...
Richard, Hempstead, NY
"My living room furniture is looking fresh again - it looks like it did when I bought it!Thanks guys for...
Karen McCarthy, New York
"I got a great clean at a very reasonable price from the team at Flat Rate. I would use you again and again." 
Wendy Davis, Boerum Hill, NY
Protect your health and life style by choosing the organic way