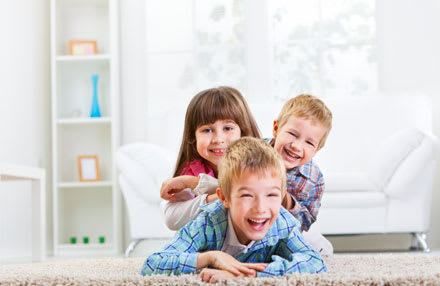 Oriental Chinese Rug History & Information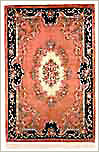 China has produced hand-knotted rugs for hundreds of years. There are reports of rugs being woven in north-central China, in the area around Ningxia, as early as 1696. However, there was never a real rug industry until the 1860's, when workshops were set up near Beijing and rugs were commissioned by the Imperial Court. In the 1920's and 30's, rugs were produced for the American market in factories in Hebel and Shandong provinces, and took on Art Deco designs.
These rugs were handmade, but the workshops were highly organized with foreign companies controlling all phases of the production. Many rugs from this period had plain grounds of pearl grey or navy with wide solid-color borders and simple floral spray design elements. In the mid-twentieth Century the Chinese government controlled the carpet factories, and rugs were carved in a variety of designs using pastel colors. Most of these rugs are now mad in state-owned co-operatives in and around Tianjin. Contemporary Chinese rugs, called "Sino-Persian", are influenced by Persian designs.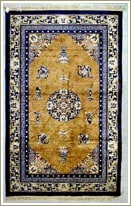 Chinese rugs are primarily influenced by Buddhism, Taoism and Confucius. Unlike other oriental rugs, Chinese designs are very literal and most of the motifs used have very exact meanings. For instance, a common motif that comes in form of a medallion or a border component is the Shou character, which symbolizes long life. The Fu character, which is less common, means good luck. Instead of the Fu character, bats are frequently used to symbolize good luck. Butterflies means luck and a happy marriage. Dragons means power and authority. The Phoenix represents peace and happiness. Peonies symbolizes nobility, wealth and love. Fish points to abundance. The Swastika pattern has several meanings including happiness, the heart of Buddha and the number 10,000. The Chinese fret, which is created by repeating swastikas, means 10,000 happiness, and the cloud motif symbolizes a wish.
Chinese rugs can be divided into two groups: carved rugs or Sino-Persian. Both are pile woven. Chinese carved rugs are made of wool and cotton and are distinguished by their thick and lustrous nap and embossed Art Deco or French Aubusson design. They most often use soft pastel colors and uncomplicated floral designs. Sino-Persian rugs have a closely clipped nap and have elaborate, intricate floral designs.
"The carpet in our living room had a big rip in it. FlatRate Carpet repaired it seamlessly -it looks...
Mrs. Jennifer Patterson, Queens
"I liked that Eric, the technician, cleaned a test spot in my carpet first. It made me feel comfortable with...
Becca McGail, NYC
"I really liked working with Ally. She worked with my crazy schedule and got a technician to my house quickly....
Cassie Michaels, Arverne, NY
"Alex from Flat Rate did a great job cleaning my couches. He gave a great explanation of the quote and price...
Patti McConor, Aberdeen Township, NJ
"..I can't believe how good my house looks after professional carpet cleaning. Thank you, Flat Rate Carpet."
Jake House , Salem, NY
"I really liked the free cleaning test treatment and think they offer very fair pricing. They did an excellent...
Jayden Becker, Staten Island, NY
"I greatly appreciate working with your team to update our home. The service, from coordinating the decor to...
Mary Stanton, Middlesex, NJ
"Hey Ron, I don't know how your guys did it, but the dog smell disappeared, and the rug is like new with no...
Richard, Hempstead, NY
"My living room furniture is looking fresh again - it looks like it did when I bought it!Thanks guys for...
Karen McCarthy, New York
"I got a great clean at a very reasonable price from the team at Flat Rate. I would use you again and again." 
Wendy Davis, Boerum Hill, NY
Protect your health and life style by choosing the organic way