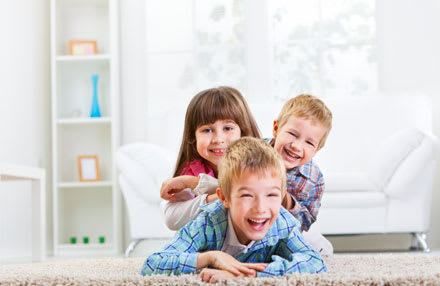 How to Clear Poop Stains
We all love pets, especially those four-legged, furry friends. We care for them in everyway possible. We feed them, pet them and clean them. But it's not always fun and games. Every pet owner knows that pets come with some less-than-friendly accidents on your carpets.
Poop stains leave your carpets smelling unpleasant and looking terrible. We found this at-home, easy remedy to cleaning even the largest poop stains from your carpets. This video teaches, that with some simple ingredients and machinery, you can get your carpets looking and smelling great.
But, like with other stains, no at-home remedy provides you with a higher quality result than professional stain and odor removal. Our technicians at Flat Rate Carpet, use non-toxic, bleach-free products to clear the problems. Call Flat Rat today to learn more about our pet stain and odor removal services.
"The carpet in our living room had a big rip in it. FlatRate Carpet repaired it seamlessly -it looks...
Mrs. Jennifer Patterson, Queens
"I liked that Eric, the technician, cleaned a test spot in my carpet first. It made me feel comfortable with...
Becca McGail, NYC
"I really liked working with Ally. She worked with my crazy schedule and got a technician to my house quickly....
Cassie Michaels, Arverne, NY
"Alex from Flat Rate did a great job cleaning my couches. He gave a great explanation of the quote and price...
Patti McConor, Aberdeen Township, NJ
"..I can't believe how good my house looks after professional carpet cleaning. Thank you, Flat Rate Carpet."
Jake House , Salem, NY
"I really liked the free cleaning test treatment and think they offer very fair pricing. They did an excellent...
Jayden Becker, Staten Island, NY
"I greatly appreciate working with your team to update our home. The service, from coordinating the decor to...
Mary Stanton, Middlesex, NJ
"Hey Ron, I don't know how your guys did it, but the dog smell disappeared, and the rug is like new with no...
Richard, Hempstead, NY
"My living room furniture is looking fresh again - it looks like it did when I bought it!Thanks guys for...
Karen McCarthy, New York
"I got a great clean at a very reasonable price from the team at Flat Rate. I would use you again and again." 
Wendy Davis, Boerum Hill, NY
Protect your health and life style by choosing the organic way