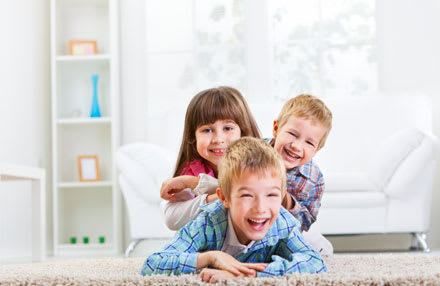 Why Dry Cleaning is Essential for Wool Rugs and Carpets
Dry carpet cleaning is essential when it comes to wool rugs and wool carpets. Wool is the absolute best choice of all materials for both woven and tufted carpets and rugs.
Unmatched Durability
Wool is also one of the safest fabrics to use for carpets and area rugs, as wool is the most naturally fire resistant of all fibers. The durability of wool carpets is unmatched. As an added plus, wool is naturally stain-resistant because it repels stains and discourages them from penetrating the fibers of the wool, making wool rugs and carpets easier to clean should there come a time for stain removal. Wool is naturally resistant to soil, dirt and debris.
Wool rugs are the number one choice for people who have small children and pets. Wool carpets are also non-toxic, non-allergenic and do not encourage the growth of bacteria.
Why Only Dry Cleaning
There is more than one way to clean a wool carpet or rug but one of the best ways according to the experts at Flat Rate Carpet in New York and New Jersey is to dry clean your carpet. Dry cleaning a carpet or rug is an excellent form of allergy control and is gentle enough to maintain the original look of your carpet. Dry cleaning also gets tough on dirt and debris that has embedded itself in the fibers of the rug or carpet.
Why it is preferable to dry clean wool carpet as opposed to steam clean (also known as hot-water extraction )? The answer is multifaceted.
Dry cleaning a carpet or rug produces quick results, as the carpet is generally dry and back to normal within one to two hours. Secondly because there is no hot water used in the cleaning process, there are no concerns that in time the carpet will begin to fade. No water is used in the process of dry cleaning a carpet or rug and therefore there are no worries about the development of dust mites or mildew.
Environmentally Friendly
Finally, dry cleaning a carpet is environmentally friendly which is to say that it is a non-toxic carpet cleaning process that makes use of biodegradable cleaning products that are excellent for fine rug cleaning. Dry cleaning a wool carpet is one of the best choices for carpet cleaning for those who have children, pets or who suffer from allergies.
Dry cleaning a wool carpet or rug can be done in a variety of ways. None of the methods employed to dry clean carpet use water or required rinsing as the final step.
One method of dry cleaning a carpet makes use of foam that is sprayed directly onto the carpet. Another option when it comes to dry cleaning a wool carpet is to make use of a large cotton bonnet that goes into a spinning action to clean very deeply and thoroughly. This way, all of the dirt and debris in the carpet is absorbed into the cotton bonnet. The third method of dry cleaning a carpet is by way of a substance that resembles sawdust that is wet. A machine is used to brush the wet sawdust like substance into the wool carpet and the dirt in the carpet clings to it. Once the machine is finished doing the entire carpet or rug it is left to dry and then it is vacuumed.
"The carpet in our living room had a big rip in it. FlatRate Carpet repaired it seamlessly -it looks...
Mrs. Jennifer Patterson, Queens
"I liked that Eric, the technician, cleaned a test spot in my carpet first. It made me feel comfortable with...
Becca McGail, NYC
"I really liked working with Ally. She worked with my crazy schedule and got a technician to my house quickly....
Cassie Michaels, Arverne, NY
"Alex from Flat Rate did a great job cleaning my couches. He gave a great explanation of the quote and price...
Patti McConor, Aberdeen Township, NJ
"..I can't believe how good my house looks after professional carpet cleaning. Thank you, Flat Rate Carpet."
Jake House , Salem, NY
"I really liked the free cleaning test treatment and think they offer very fair pricing. They did an excellent...
Jayden Becker, Staten Island, NY
"I greatly appreciate working with your team to update our home. The service, from coordinating the decor to...
Mary Stanton, Middlesex, NJ
"Hey Ron, I don't know how your guys did it, but the dog smell disappeared, and the rug is like new with no...
Richard, Hempstead, NY
"My living room furniture is looking fresh again - it looks like it did when I bought it!Thanks guys for...
Karen McCarthy, New York
"I got a great clean at a very reasonable price from the team at Flat Rate. I would use you again and again." 
Wendy Davis, Boerum Hill, NY
Protect your health and life style by choosing the organic way