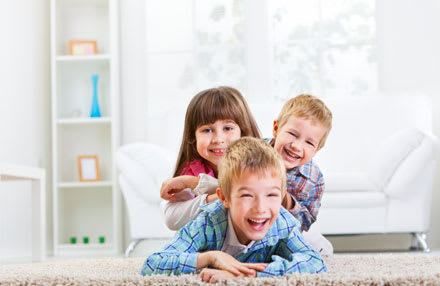 Why Dry Cleaning is Essential
for Naturally Dyed Rugs and Carpets
As our society becomes more environmentally friendly there is more and more interest in the use of natural as opposed to synthetic materials for interior decorating and in general making homes beautiful.
The Green Alternative
Natural dyes used to make carpets and rugs such as Persian or Tibetan carpets do not negatively affect the environment or the waterways as many synthetic chemical dyes do and that makes natural dyes the superior choice for carpet manufacturers. As well natural dyes do not have a negative impact health wise on the people involved in the making of carpets and rugs such as the weavers and the dyers themselves.
Not only are natural dyes used for carpet and rugs healthier for the environment and its inhabitants, their beauty, intensity and vibrancy are unmatched. No synthetic dyes come close to what can be done with natural dyes. The gentle variations of natural dyes and the melding of colors make the color saturation process one that is awe inspiring and eye catching.
Why Dry Cleaning?
Of all of the methods of cleaning for naturally dyed rugs and carpets, dry cleaning is essential for the proper care and maintenance of the carpets throughout your home. Dry cleaning is a form of non-toxic carpet cleaning that does not use water and therefore does not encourage the growth of bacteria, mildew or dust mites.
Flat Rate Carpet in New York and New Jersey can do dry cleaning for reasonable rates that can be made to work for any budget.
Dry cleaning a naturally dyed carpet or rug is the number one choice because it dries very fast, which is to say that the carpet is clean and back to its normal look after only one to two hours and there is no hot water used so the carpets will not show any signs of fading due to the type of carpet cleaning used. Dry cleaning a carpet is safe for all types of fibers as well as fabrics whether they be wool, cotton or silk and most importantly, dry cleaning a carpet will do the environment good.
This form of carpet cleaning is an excellent choice for allergy control and it is excellent for those who have children, pets or both.
No dry cleaning method uses water and a naturally dyed carpet or rug should never be rinsed with water. One method makes use of a foam or foam shampoo that is especially beneficial for light cleaning of small areas of carpets or for smaller rugs. The foam is sprayed onto the carpet and then worked into it by way of a brush or sponge. Once the carpet has completely dried it is vacuumed.
Another Solution
Another method of dry cleaning a naturally dyed carpet involves uses a material that looks a lot like wet sawdust but is actually a type of absorbent powder. A machine is used to distribute the substance on the carpet and any dirt that is in the carpet or rug will be pulled out and will attach itself to the sawdust like material.
Once the carpet has been completely saturated with the material it is left to dry and then it is vacuumed out, catching the remainder of the carpet debris. Look to the experts at Flat Rate Carpet in New York and New Jersey for all of your dry cleaning needs. They are the experts in the professional carpet and upholstery cleaning field.
"The carpet in our living room had a big rip in it. FlatRate Carpet repaired it seamlessly -it looks...
Mrs. Jennifer Patterson, Queens
"I liked that Eric, the technician, cleaned a test spot in my carpet first. It made me feel comfortable with...
Becca McGail, NYC
"I really liked working with Ally. She worked with my crazy schedule and got a technician to my house quickly....
Cassie Michaels, Arverne, NY
"Alex from Flat Rate did a great job cleaning my couches. He gave a great explanation of the quote and price...
Patti McConor, Aberdeen Township, NJ
"..I can't believe how good my house looks after professional carpet cleaning. Thank you, Flat Rate Carpet."
Jake House , Salem, NY
"I really liked the free cleaning test treatment and think they offer very fair pricing. They did an excellent...
Jayden Becker, Staten Island, NY
"I greatly appreciate working with your team to update our home. The service, from coordinating the decor to...
Mary Stanton, Middlesex, NJ
"Hey Ron, I don't know how your guys did it, but the dog smell disappeared, and the rug is like new with no...
Richard, Hempstead, NY
"My living room furniture is looking fresh again - it looks like it did when I bought it!Thanks guys for...
Karen McCarthy, New York
"I got a great clean at a very reasonable price from the team at Flat Rate. I would use you again and again." 
Wendy Davis, Boerum Hill, NY
Protect your health and life style by choosing the organic way