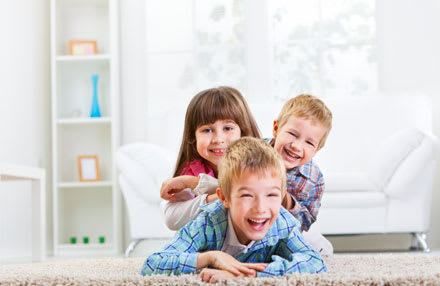 How Quick Water Damage Clean-Up
is Essential for a Healthy Home
In order to prevent the formation of mold, water damage clean up in a home must be swift if it is to be effective. Water damage is often the unfortunate result of a natural disaster such as rain or a flood.
Here Comes The Mildew...
Whether water has entered by way of a roof, windows, doors or a crack in the foundation, the excessive moisture and high humidity that comes with the water damage can create an environment that encourages the growth of mold and mildew. If left to its own devices, this can bring on a host of respiratory related problems for the occupants of a home as well as the destruction it causes to drywall, paint and carpets. Mold can leave a foul and musty odor that can gradually take over a large area of a home and can worsen over time.
Water damage control is essential to prevent the development of mold, which is harmful to health. The most common illnesses that can result from the existence of mold are diseases termed as hypersensitive such as asthma and chronic postnasal drip. People who suffer from immune suppressed diseases are particularly at risk if they are exposed to high levels of mold in a home.
Here's What You Get...
For example, this could be an individual who has had a transplanted organ, such as a lung or kidney. The exposure to mold could bring on a lung infection, which could then prove deadly.
The main symptoms of exposure to mold include shortness of breath, a runny nose, a general feeling of malaise and eye irritation. To encourage a healthy home when water damage occurs, regardless of whether it is due to a wind and rainstorm or a burst pipe or something else, take steps to contain, kill, remove and protect your home from the development of mold. The spores from mold will often escape into the air and worsen symptoms of asthma and a variety of allergies. This can lead to the development of even worse respiratory illnesses.
And Here's What You Do...
If you are not fast enough with your water damage control on your carpets and discover the presence of mold, take action immediately. It is crucial to use a professional water damage restoration expert to properly dry, sanitize and disinfect the affected areas. The common person is not suitable and not equipped to ensure the complete and permanent removal of mold and mildew.
Whether you live in New York, Chicago, Los Angeles or any other city or town in the United States, water damage is often a reality that you will have to deal with at some point in time. Be prepared by getting informed about mold, allergy control and organic methods of carpet cleaning.
"The carpet in our living room had a big rip in it. FlatRate Carpet repaired it seamlessly -it looks...
Mrs. Jennifer Patterson, Queens
"I liked that Eric, the technician, cleaned a test spot in my carpet first. It made me feel comfortable with...
Becca McGail, NYC
"I really liked working with Ally. She worked with my crazy schedule and got a technician to my house quickly....
Cassie Michaels, Arverne, NY
"Alex from Flat Rate did a great job cleaning my couches. He gave a great explanation of the quote and price...
Patti McConor, Aberdeen Township, NJ
"..I can't believe how good my house looks after professional carpet cleaning. Thank you, Flat Rate Carpet."
Jake House , Salem, NY
"I really liked the free cleaning test treatment and think they offer very fair pricing. They did an excellent...
Jayden Becker, Staten Island, NY
"I greatly appreciate working with your team to update our home. The service, from coordinating the decor to...
Mary Stanton, Middlesex, NJ
"Hey Ron, I don't know how your guys did it, but the dog smell disappeared, and the rug is like new with no...
Richard, Hempstead, NY
"My living room furniture is looking fresh again - it looks like it did when I bought it!Thanks guys for...
Karen McCarthy, New York
"I got a great clean at a very reasonable price from the team at Flat Rate. I would use you again and again." 
Wendy Davis, Boerum Hill, NY
Protect your health and life style by choosing the organic way