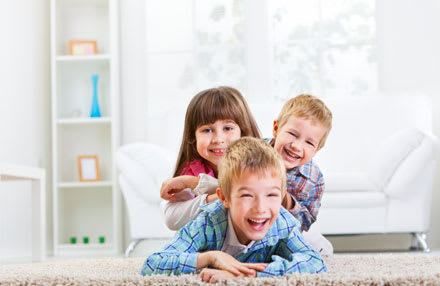 How Carpet and Upholstery Cleaning Can Reduce Allergies
Allergy Can Diminish
The U.S. National Center for Health Statistics cites that one in three individuals suffer from allergies, asthma, bronchitis or sinusitis. High levels of dust mite allergens trapped in the carpets and upholstery can either trigger the development of allergies or can encourage them to worsen over time.
There are many other common household allergens besides dust mites that can worsen symptoms such as dust, mold, pet dander, and even the appearance of cockroaches. One of the best ways to improve allergy concerns is to professionally clean your carpets and furniture on a regular basis in order to decrease the amount of harmless synthetic chemicals that are used in your home environment. This goes for the work environment as well.
Be aware that dust mites cannot be completely eliminated from an environment but routine professional cleaning can keep them to a level that is manageable for everyone involved.
Small Changes, Big Improvement
Making small changes to your cleaning routine can make a difference in terms of the health of your family members and even your pets that are affected by harmful allergens as well. If carpets and upholstery are cleaned regularly, this will work as a form of allergy control in the home. It is also advisable to not bring any synthetic chemicals into your home whether for the purposes of the regular cleaning you do yourself or when you have a professional cleaning company such as Flat Rate Carpet in New York and New Jersey come in to clean your home.
It is recommended that you have your carpets and upholstery professionally cleaned every 6 to 12 months. Make sure that your carpet cleaning and your upholstery cleaning takes the form of non-toxic cleaning and the use of biodegradable cleaning products are strongly recommended.
When it comes to upholstery, allergy reduction can only take place if the surfaces of furniture, as well as cushions, are vacuumed on a weekly basis (and more often if you have cats or dogs ) and professionally cleaned at least every 6 months.
Regular professional upholstery cleaning is a must should you wish to keep harmful allergens to a minimum.
"The carpet in our living room had a big rip in it. FlatRate Carpet repaired it seamlessly -it looks...
Mrs. Jennifer Patterson, Queens
"I liked that Eric, the technician, cleaned a test spot in my carpet first. It made me feel comfortable with...
Becca McGail, NYC
"I really liked working with Ally. She worked with my crazy schedule and got a technician to my house quickly....
Cassie Michaels, Arverne, NY
"Alex from Flat Rate did a great job cleaning my couches. He gave a great explanation of the quote and price...
Patti McConor, Aberdeen Township, NJ
"..I can't believe how good my house looks after professional carpet cleaning. Thank you, Flat Rate Carpet."
Jake House , Salem, NY
"I really liked the free cleaning test treatment and think they offer very fair pricing. They did an excellent...
Jayden Becker, Staten Island, NY
"I greatly appreciate working with your team to update our home. The service, from coordinating the decor to...
Mary Stanton, Middlesex, NJ
"Hey Ron, I don't know how your guys did it, but the dog smell disappeared, and the rug is like new with no...
Richard, Hempstead, NY
"My living room furniture is looking fresh again - it looks like it did when I bought it!Thanks guys for...
Karen McCarthy, New York
"I got a great clean at a very reasonable price from the team at Flat Rate. I would use you again and again." 
Wendy Davis, Boerum Hill, NY
Protect your health and life style by choosing the organic way