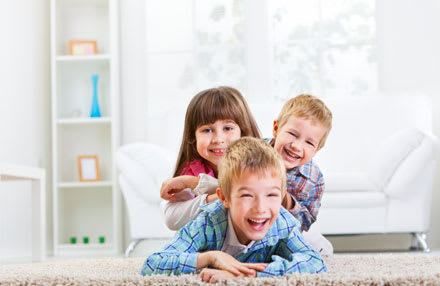 Health Benefits of Ridding Your Home of Mold
Mold is a type of fungus that thrives in damp areas of a home such as in a bathroom or basement . Mold are "plants that make spores instead of seeds which float in the air like pollen." Mold and mildew that grow in homes can cause a host of health problems as the mold particles are airborne, which means that they can spread through an environment and then a person can unknowingly breathe them into their lungs where they can cause damage.
Mold tends to grow in a damp area of a home and will travel through the air except in cases where there is a lack of movement of air in which instance it will stay confined to one spot. The most common illnesses that can result from the existence of mold are diseases termed as hypersensitive such as asthma and chronic postnasal drip . People who suffer from immune suppressed diseases are particularly at risk if they are exposed to high levels of mold in a home. For example, this could be an individual who has had a transplanted kidney. The exposure to mold could bring on a lung infection , which could prove fatal.
The main symptoms of exposure to mold include shortness of breath, a runny nose, a general feeling of malaise and eye irritation. One of the most common reasons cited for the development of mold is poor indoor quality, which often is associated with improper ventilation. Indoor air quality can be improved by way of an air filtration system, an air conditioner, a dehumidifier, a humidifier (humidify is best kept between 30 to 50 percent) or local exhaust fans. Often the symptoms of too much mold in an area will disappear as soon as the person vacates the affected area.
Symptoms of asthma, bronchitis, sinusitis and a variety of allergies will be greatly reduced if you find ways to rid your home of mold . This means stopping mold before it starts to grow, which is to say that you need to inhibit the growth of moisture. Always keep your home as dry as possible and pay particular attention to areas where moisture is likely to take up residence such as in a bathroom or basement or in a closet that is jam packed with items and has little if any air circulating through it.
It is advisable to always approach water damage control in your home with the utmost care and always hire a professional . A professional Water Damage Restoration Expert such as Flat Rate Carpet.com in New York and New Jersey is needed in completely ridding your home of mold . Precise water extraction methods are used that do not require water and therefore will not encourage the development of mold such as dry cleaning the carpets instead of wet shampooing or steam cleaning.
Many of the above mentioned symptoms of mold growth should disappear once you have reduced the level of mold in your home or better yet, eradicated it all together. It is essential to one's health to live in a mold-free environment.
"The carpet in our living room had a big rip in it. FlatRate Carpet repaired it seamlessly -it looks...
Mrs. Jennifer Patterson, Queens
"I liked that Eric, the technician, cleaned a test spot in my carpet first. It made me feel comfortable with...
Becca McGail, NYC
"I really liked working with Ally. She worked with my crazy schedule and got a technician to my house quickly....
Cassie Michaels, Arverne, NY
"Alex from Flat Rate did a great job cleaning my couches. He gave a great explanation of the quote and price...
Patti McConor, Aberdeen Township, NJ
"..I can't believe how good my house looks after professional carpet cleaning. Thank you, Flat Rate Carpet."
Jake House , Salem, NY
"I really liked the free cleaning test treatment and think they offer very fair pricing. They did an excellent...
Jayden Becker, Staten Island, NY
"I greatly appreciate working with your team to update our home. The service, from coordinating the decor to...
Mary Stanton, Middlesex, NJ
"Hey Ron, I don't know how your guys did it, but the dog smell disappeared, and the rug is like new with no...
Richard, Hempstead, NY
"My living room furniture is looking fresh again - it looks like it did when I bought it!Thanks guys for...
Karen McCarthy, New York
"I got a great clean at a very reasonable price from the team at Flat Rate. I would use you again and again." 
Wendy Davis, Boerum Hill, NY
Protect your health and life style by choosing the organic way