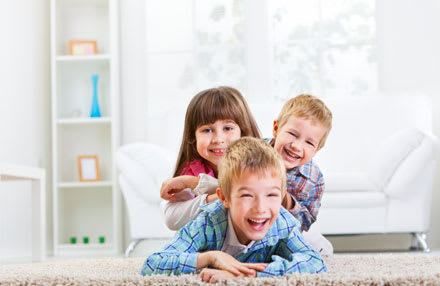 10 Carpet Myths- Know Better
Having a wall-to-wall carpet installed in your home is a serious investment. Regardless of what you might hear, it is far better to pay a little more and have the job done professionally, rather than cut corners on price, quality and service. Read about these common carpet myths and learn how you can really get the most out of your carpet:
Myth 1 – Buying Inexpensive Carpets Will Save Me Money
Wrong! Buying a cheap carpet from a discount carpet dealer may seem like a good idea at the time, except that you're getting exactly what you pay for.
Discount carpets are made with lower-quality, less durable fiber in the pile. The latex backing is mixed with a common clay filler called bentonite. Within months, traffic patterns will become visible on the carpet, causing irreversible damage.
In contrast, better-quality carpets, in the mid-to-upper price range, exhibit far better wear and resistance and will still look beautiful - with proper care and maintenance – twenty or thirty years later.
Ask your designer - they know what a difference a good quality carpet can make to your home.
Myth 2 – Buying Inexpensive Padding Will Save Me Money
This is another corner people often cut, when trying to save money.
However, when cheap padding falls apart, it causes prematurely wearing of the carpet. And this means a costly repair.
If you paid top dollar for your carpet, it's best to go the extra mile and purchase good padding to preserve its quality.
Myth 3 - It Doesn't Need Cleaning - My Carpet is One or Two Years Old
A common misconception is that your carpet only needs cleaning when it looks dirty. And that a new carpet (only a year or two old) still looks pretty clean.
In reality, most of the damage has already been done by the time dirt and soiling become noticeable. The fact is that the soil you can't see does the most damage. This microscopic dirt actually breaks down the fiber of your carpet and destroys its fiber coating.
Fuzz in your vacuum cleaner? It's your carpet - slowly disintegrating.
Myth 4 – I Have My Own Machine, I Don't Need Professional Cleaning
When you aren't sure what to do, cleaning your carpet using a purchased or rented machine is one of the worst things you can do.
These kinds of machines pump water into the carpet, but can't pump it back out. The carpet ends up wet for days, leaving it vulnerable to mold, mildew, and a breakdown of the backing.
HIre machines also leave behind serious soap residue, which attracts dirt to your carpet, rather than removing it.
Myth 5 – Carpet Cleaning Products Bought at the Grocery Store Are Just As Good as Professional Products
Generic stain removal products, widely available and easily purchased, are cheap but, nevertheless, not that effective. Most contain a variety of harsh chemicals, designed to address a broad scope of carpet stains but not formulated to deal with specific problems.
Many of these products will remove your stain. However, along with this you will have to cope with color removal - this happens with about a third of carpets on the current market.
Special stain removal formulas, designed to address specific problems, are a better investment and far more gentle on your carpet.
Myth 6 – Vacuuming My Carpet Once or Twice a Week is Enough
According to the EPA, vaccuuing your carpet once a day is recommended.
You might think that outside stays outside. But dust and pollen come into your home and settle in your carpet with ease. Also, bear in mind that indoor pollutants, such as animal hair, dander, and dust mites are living in your carpet. The only way to decrease the amount of build-up of these allergens is with daily vacuuming.
It really is the best way to care for your carpet, and will help it stay in fine shape for years to come.
Myth 7 – I Should Only Use Dry Carpet Cleaning Because Steam Cleaning Will Leave my Carpet Damp
There are several different methods available at Flat Rate Carpet for cleaning your carpet. The recommended method, approved by the EPA and all major carpet manufacturers, is with the use of a truck-mount steam cleaning machine.
Bonnet machines makes a carpet look very clean, but do not clean deep enough to retrieve all of the dirt from the carpet pile. As a result, dirt re-surfaces quickly and soils your carpet after very little time. In contrast, a truck-mount steam cleaning machine is actually a type of pressure washer: it washes down to the backing of the carpet, whilst sucking up the soil and dirt at the same time. When used correctly, this type of steam cleaning eliminates 75% to 85% of the water used in the cleaning. The remaining water dries naturally, within 2-6 hours.
Myth 8 – Deodorizing Powder is a Great Way to Keep my Carpet Fresh
One of the ingredients in powder deodorizer is talcum powder, which is not water soluble.
After repeated use, this powder will become embedded in your carpet and cannot be removed, either with a vacuum cleaner, or by steam cleaning. When subjected to moisture, the powder rises to the top of the carpet, creating white stains which will NEVER go away.
Myth 9 – There's Been a Flood - But I Can Handle it Myself
Water damage is a hazardous situation. It is unwise for anyone but a trained professional to attempt any sort of water damage clean-up.
After flooding, there is a 48 to 72-hour 'window of opportunity' to dry out your carpet, before mold and mildew set in. After 72 hours, mold or mildew activity of some degree is certain, and many of these mold and mildew strains are toxic. Vacuuming up the water and turning on fans will not solve the fundamental problem, because it will not dry the carpet's padding. It is within this padding that the majority of the moisture will have settled.
In order to deal with the situation properly, the padding must be removed and discarded, and the carpet dried separately. In specific situations it is possible to dry the padding and carpet together; however, even when this is possible, professional help is still required.
Myth 10 – My Carpet Has Terrible Pet Odor; I Have to Tear it Out
Not true! When it comes to pet odors, carpets can be treated most of the time with an enzyme-based odor product. The enzymes neutralize the odor while removing the stain.
In extreme cases, with unpleasant and even foul pet odors, the carpet padding will need to be removed and the floor treated with an oil- based primer. This primer will 'seal' the odor in the sub-floor. In the meantime, the carpet can be treated and cleaned, then re-installed with a new pad.
"The carpet in our living room had a big rip in it. FlatRate Carpet repaired it seamlessly -it looks...
Mrs. Jennifer Patterson, Queens
"I liked that Eric, the technician, cleaned a test spot in my carpet first. It made me feel comfortable with...
Becca McGail, NYC
"I really liked working with Ally. She worked with my crazy schedule and got a technician to my house quickly....
Cassie Michaels, Arverne, NY
"Alex from Flat Rate did a great job cleaning my couches. He gave a great explanation of the quote and price...
Patti McConor, Aberdeen Township, NJ
"..I can't believe how good my house looks after professional carpet cleaning. Thank you, Flat Rate Carpet."
Jake House , Salem, NY
"I really liked the free cleaning test treatment and think they offer very fair pricing. They did an excellent...
Jayden Becker, Staten Island, NY
"I greatly appreciate working with your team to update our home. The service, from coordinating the decor to...
Mary Stanton, Middlesex, NJ
"Hey Ron, I don't know how your guys did it, but the dog smell disappeared, and the rug is like new with no...
Richard, Hempstead, NY
"My living room furniture is looking fresh again - it looks like it did when I bought it!Thanks guys for...
Karen McCarthy, New York
"I got a great clean at a very reasonable price from the team at Flat Rate. I would use you again and again." 
Wendy Davis, Boerum Hill, NY
Protect your health and life style by choosing the organic way