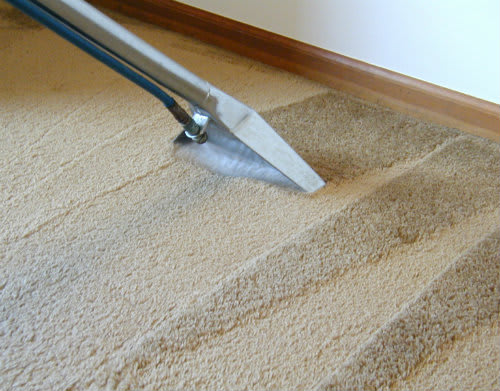 There are several options for good, professional wall to wall carpet cleaning, but hot water extraction method along with steam cleaning are the best - the most effective, efficient, safe and green method there is.
Hot Water extraction is very similar to steam cleaning, only with lower temperatures used (under 212 fahrenheit). However, both are the best way to ensure deep cleaning without damaging your carpet or causing any health risks, with the use of only green cleaning products during the cleaning process.
How does it Work
In practice, very little or none at all steam is actually involved in the process.
The machine operated by one of our trained professionals uses a combo of hot water and cleaning agents that is pushed to the carpet's surface at a very high pressure. This allows for comprehensive loosening of the dirt, grime and other particles. Almost immediately a powerful vacuum will remove the dirty water from the carpet, along with those particles. The dirty water is separated of course, from the clean fresh hot water mixed with a biodegradable solution.
We first vacuum the carpet from start to finish to remove all surface dirt and dust. Then, we pre condition the carpet in places where noticeable spots and stains appear according to the technicians discretion. After these are taken care of we operate the carpet cleaning machine wich will be used in a professional manner to complete the cleaning process.
Benefits of Hot Water Extraction
As with any house cleaning, you want it to be fast, efficient and above all safe for your family, pets and yourself. We use only green, natural, biodegradable cleaning product and agents. It makes hot water extraction a natural cleaning source utilized by a forceful machine for the complete cleaning of a wall to wall carpet. Furthermore, it kills bacteria, e coli and other troublemakers residing within the depths of your carpet.
It's a cost effective, safe, and simply the best way to get your carpet looking great once again.
Call today for carpet cleaning hot water extraction method in New York & New Jersey.
"The carpet in our living room had a big rip in it. FlatRate Carpet repaired it seamlessly -it looks...
Mrs. Jennifer Patterson, Queens
"I liked that Eric, the technician, cleaned a test spot in my carpet first. It made me feel comfortable with...
Becca McGail, NYC
"I really liked working with Ally. She worked with my crazy schedule and got a technician to my house quickly....
Cassie Michaels, Arverne, NY
"Alex from Flat Rate did a great job cleaning my couches. He gave a great explanation of the quote and price...
Patti McConor, Aberdeen Township, NJ
"..I can't believe how good my house looks after professional carpet cleaning. Thank you, Flat Rate Carpet."
Jake House , Salem, NY
"I really liked the free cleaning test treatment and think they offer very fair pricing. They did an excellent...
Jayden Becker, Staten Island, NY
"I greatly appreciate working with your team to update our home. The service, from coordinating the decor to...
Mary Stanton, Middlesex, NJ
"Hey Ron, I don't know how your guys did it, but the dog smell disappeared, and the rug is like new with no...
Richard, Hempstead, NY
"My living room furniture is looking fresh again - it looks like it did when I bought it!Thanks guys for...
Karen McCarthy, New York
"I got a great clean at a very reasonable price from the team at Flat Rate. I would use you again and again." 
Wendy Davis, Boerum Hill, NY
Protect your health and life style by choosing the organic way
Hot Water Extraction on a Wall to Wall Carpet