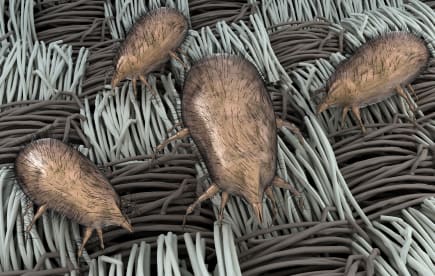 Getting rid of dust mites from your home
There are millions of dust mites sharing your home with you, feeding off the dust in your carpets, your soft furnishings and your bedding. Dust mites create up to 200 times their own body weight in waste, and these waste products are bad news for allergy sufferers. Dust mite allergies can cause you to cough, sneeze and itch, making you uncomfortable and getting in the way of a good night's sleep.
Don't suffer in silence- call the dust mite busters today!
Let Flat Rate Carpet, experts at providing carpet cleaning services in the New York area, clean and disinfect your mattresses, so you can sleep better at night.
Flat Rate Carpet provide a service that is:
Eco-friendly. Flat Rate Carpet uses only eco-friendly, effective carpet cleaning treatments, without harsh chemicals.
Expert. Our technicians are highly trained specialists in their field, so you know your carpets and rugs are in good hands.
reasonably priced. Sign up now for a free home cleaning test before to help you make your decision
Regular vacuuming simply doesn't get rid of dust mites. Call Flat Rate Carpet for a free in-home cleaning test in the NY or NJ area.
While your mattresses are cleaned, don't forget about the dust mites and allergens in your carpets, sofas, chairs and upholstery. Speak to Flat Rate Carpet about our complete home-cleaning services, and soon you and your family will be breathing easier.
"The carpet in our living room had a big rip in it. FlatRate Carpet repaired it seamlessly -it looks...
Mrs. Jennifer Patterson, Queens
"I liked that Eric, the technician, cleaned a test spot in my carpet first. It made me feel comfortable with...
Becca McGail, NYC
"I really liked working with Ally. She worked with my crazy schedule and got a technician to my house quickly....
Cassie Michaels, Arverne, NY
"Alex from Flat Rate did a great job cleaning my couches. He gave a great explanation of the quote and price...
Patti McConor, Aberdeen Township, NJ
"..I can't believe how good my house looks after professional carpet cleaning. Thank you, Flat Rate Carpet."
Jake House , Salem, NY
"I really liked the free cleaning test treatment and think they offer very fair pricing. They did an excellent...
Jayden Becker, Staten Island, NY
"I greatly appreciate working with your team to update our home. The service, from coordinating the decor to...
Mary Stanton, Middlesex, NJ
"Hey Ron, I don't know how your guys did it, but the dog smell disappeared, and the rug is like new with no...
Richard, Hempstead, NY
"My living room furniture is looking fresh again - it looks like it did when I bought it!Thanks guys for...
Karen McCarthy, New York
"I got a great clean at a very reasonable price from the team at Flat Rate. I would use you again and again." 
Wendy Davis, Boerum Hill, NY
Protect your health and life style by choosing the organic way