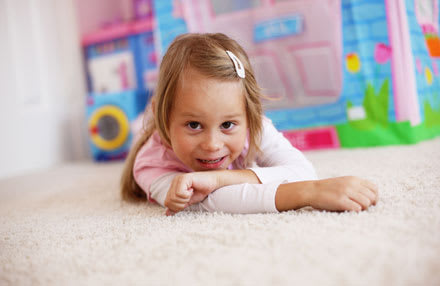 Professional Baby Help from Experienced Neighbors
Baby proofing your home sometimes requires way more steps than the pregnancy brain can comprehend. At Flat Rate Carpet, we take the stress and pressure out of baby proofing with quality, complete service and care.
Top Tip to Ease Stress
Baby proofing experts suggest several ways to prepare both yourself and your home for the arrival of your little one. While they suggest various methods and practices, almost all of them highly recommend giving your home a complete cleaning, from top to bottom.
After baby comes, you may find you don't have enough hands to juggle baby, bottles, diapers and the vacuum cleaner. Plus, don't we all want to bring our precious new treasures into a fresh, completely clean and healthy home? It is the nesting instinct after all.
Let us help you achieve the perfect clean for both you and baby. We offer a wide menu of complete treatments for your whole home using only non-toxic, certified green cleaning products.
Nurture Baby with a Natural Clean
We clean all parts of your home including carpets, rugs, sofas, drapery, and even mattresses. Our green cleaning treatments, for all these household furnishings, first clear away all the messes and then protect the health and safety of your precious family.
We strive to keep your home clean and safe. We commit to giving you the purest clean for you and your new arrival. No chemicals, no toxins, just pure, professional clean.
With over 15 years of experience in green cleaning and bio-degradable, green products, we give you the most knowledgeable, best available clean in the industry. A pure clean you can touch, feel and smell.
When we finish your green cleaning service, you and baby will breathe easy and play care-free in your completely green clean home. So call Flat Rate Carpet today to get your baby perfect green cleaning treatment started.
"The carpet in our living room had a big rip in it. FlatRate Carpet repaired it seamlessly -it looks...
Mrs. Jennifer Patterson, Queens
"I liked that Eric, the technician, cleaned a test spot in my carpet first. It made me feel comfortable with...
Becca McGail, NYC
"I really liked working with Ally. She worked with my crazy schedule and got a technician to my house quickly....
Cassie Michaels, Arverne, NY
"Alex from Flat Rate did a great job cleaning my couches. He gave a great explanation of the quote and price...
Patti McConor, Aberdeen Township, NJ
"..I can't believe how good my house looks after professional carpet cleaning. Thank you, Flat Rate Carpet."
Jake House , Salem, NY
"I really liked the free cleaning test treatment and think they offer very fair pricing. They did an excellent...
Jayden Becker, Staten Island, NY
"I greatly appreciate working with your team to update our home. The service, from coordinating the decor to...
Mary Stanton, Middlesex, NJ
"Hey Ron, I don't know how your guys did it, but the dog smell disappeared, and the rug is like new with no...
Richard, Hempstead, NY
"My living room furniture is looking fresh again - it looks like it did when I bought it!Thanks guys for...
Karen McCarthy, New York
"I got a great clean at a very reasonable price from the team at Flat Rate. I would use you again and again." 
Wendy Davis, Boerum Hill, NY
Protect your health and life style by choosing the organic way