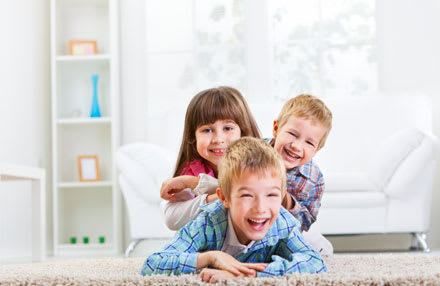 Flat Rate Carpet Stops Allergies At Home
Flat Rate Carpet of New York helps keep your indoor allergens under complete control with our professional allergy prevention cleaning services and hypoallergenic, certified green cleaning products.
Get to Know your Indoor Offenders
Allergy season brings out the most potent allergens that attack your entire immune system. With the harsh allergens floating around outdoors, most suffers seek refuge indoors.
Unfortunately, no matter the level clean of clean inside your home, you still have damaging allergens inside your home.
Meet the common, household dust mite. These microscopic bugs make successful homes in any stable human habitat. In layman's terms, where people live, so do dust mites.
These little bugs hide deep in the upholstery folds, carpet fibers and mattress springs. They multiply quickly, feed off your dry dead skin, and leave behind a large amount of feces.
While the dust mites may creep you out, their feces cause the majority of severe allergic reactions, including itchy, red eyes, runny nose, mucus build up, dry throat, infections and other respiratory illnesses, and asthmatic reactions.
Enjoy a Deep, Clean Breathe of Fresh Indoor Air
Our allergy prevention system starts with clearing the allergens, including dust mites, pet hair, trapped pollens, and mold, from your home completely. We create a cleaning package that includes carpet cleaning, upholstery cleaning and mattress cleaning treatments.
To further control your allergies, we use only non-toxic, hypoallergenic and certified green cleaning products. Studies show that combating indoor allergies starts with gentle, yet effective, all natural cleaning agents.
Our products completely eliminate all indoor allergens and leave you with a pure clean. No chemicals, toxins or harsh ingredients to aggravate your already uncomfortable state.
So start your road to clear indoor allergy prevention with Flat Rate Carpet. Call today to for a free estimate and don't forget to ask about all our green products and practices.
"The carpet in our living room had a big rip in it. FlatRate Carpet repaired it seamlessly -it looks...
Mrs. Jennifer Patterson, Queens
"I liked that Eric, the technician, cleaned a test spot in my carpet first. It made me feel comfortable with...
Becca McGail, NYC
"I really liked working with Ally. She worked with my crazy schedule and got a technician to my house quickly....
Cassie Michaels, Arverne, NY
"Alex from Flat Rate did a great job cleaning my couches. He gave a great explanation of the quote and price...
Patti McConor, Aberdeen Township, NJ
"..I can't believe how good my house looks after professional carpet cleaning. Thank you, Flat Rate Carpet."
Jake House , Salem, NY
"I really liked the free cleaning test treatment and think they offer very fair pricing. They did an excellent...
Jayden Becker, Staten Island, NY
"I greatly appreciate working with your team to update our home. The service, from coordinating the decor to...
Mary Stanton, Middlesex, NJ
"Hey Ron, I don't know how your guys did it, but the dog smell disappeared, and the rug is like new with no...
Richard, Hempstead, NY
"My living room furniture is looking fresh again - it looks like it did when I bought it!Thanks guys for...
Karen McCarthy, New York
"I got a great clean at a very reasonable price from the team at Flat Rate. I would use you again and again." 
Wendy Davis, Boerum Hill, NY
Protect your health and life style by choosing the organic way